A Chinese operator has taken delivery of the first two Mil Mi-171s powered with Klimov VK-2500-3 engines.
The two rotorcraft were delivered to Qingdao Civil Airline, says Russian Helicopters.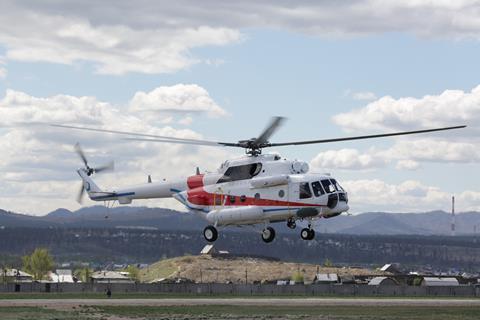 The delivery follows Chinese type certification of VK-2500-03-powered Mi-171s in 2019.
Overall, Qingdao Civil Airline has six examples on order, and the remaining four rotorcraft will be delivered in 2022.
Alexey Kozlov, managing director of Mil's Ulan-Ude factory, says that one mission for the new Mi-171s will be firefighting.
Russian Helicopters says Mi-171s with the VK-2500-03 engine are more effective in 'high and hot' climate conditions. In addition, the engines offer more power in emergency flight, which increases the safety margin if only one of the two engines is operational.