The Chinese version of the Airbus Helicopters 7t H175 super-medium helicopter, the Avicopter AC352, has received type certification from the Civil Aviation Authority of China (CAAC).
The CAAC announced the certification award for the rotorcraft – also known as the Z-15 – on 26 July. The news was also reported by Chinese state media.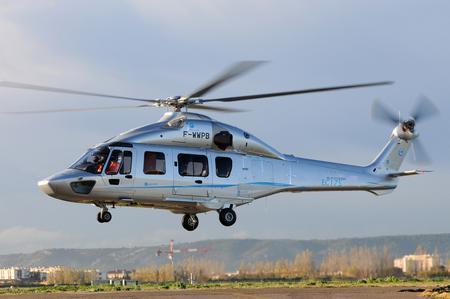 "Airbus Helicopters has congratulated AVIC/[Harbin Aircraft Industry Group] for this essential first step towards entry into service of the AC352," says Airbus Helicopters.
It adds that the development paves the way for serial production.
The H175 itself, however, has yet to receive CAAC certification, although Airbus Helicopters expects this by the end of 2022.
"Airbus Helicopters is working closely with the authorities and expects to be able to get the necessary type certificate from the [CAAC] by the end of the year and deliver the aircraft to the [Ministry of Transport]."
In March 2019, China's Ministry of Transport ordered two H175s for the search and rescue (SAR) mission. Hong Kong's Government Flying Service already operates the type in the SAR mission. It received its first SAR-roled H175 in 2018, and Cirium fleets data indicates that it has seven examples in service.
The AC352 has undergone a testing programme since its first flight in December 2016. It features a high degree of local Chinese content, including its WZ16 turboshaft engines, which are based on the Safran Ardiden 3C.
At the time of the AC352's maiden flight in 2016, Safran executive Cyrille Poetsch hailed the company's work on the WZ16 as "a major milestone in our partnership with China's aerospace industry".