Germany intends to acquire 60 Boeing CH-47 Chinooks for a long-running effort to replace the elderly Sikorsky CH-53G helicopters operated by its air force.
Defence minister Christine Lambrecht disclosed the selection of the Chinook in a speech to German lawmakers on 1 June. However, parliamentarians must still approve the purchase.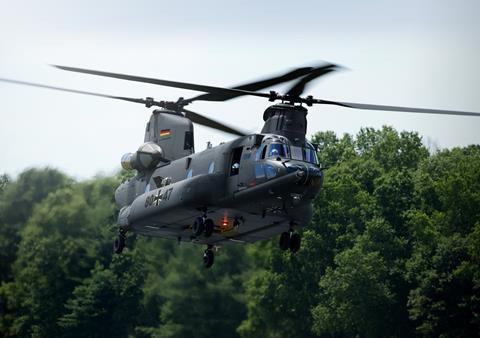 Germany's defence ministry says the decision is "strengthening our ability to co-operate with Europe". It describes the tandem-rotor CH-47 as "modern, proven and already being used by NATO partners".
Aside from the USA, NATO allies operating the Chinook include Canada, Greece, Italy, the Netherlands, Spain, Turkey and the UK.
Selection of the CH-47 is a blow for rival Lockheed Martin, which had been offering the Sikorsky CH-53K King Stallion for the heavy-lift helicopter contest.
Germany currently operates a total of 80 CH-53G/GA/GS helicopters delivered in the early 1970s, according to Cirium fleets data.
The new helicopters will be acquired via the USA's Foreign Military Sales process. German industry will nonetheless be involved in the sustainment and in-country modification of the rotorcraft, including Airbus Helicopters, which in March signed a memorandum of understanding with Boeing relating to the project.
Other members of the Chinook Deutschland Industry Team include AERO-Bildung, CAE, ESG Elektroniksystem-und Logistik, Honeywell Aerospace, Lufthansa Technik, and Rolls-Royce Deutschland.
Berlin has been attempting to replace the CH-53G fleet for the best part of a decade, including a bungled previous procurement which was cancelled in September 2020 due to cost errors. A German court ruled last December that the termination of that effort was legal, clearing the way for the current contest.