Questions have emerged about one of the largest commitments for Bell's in-development 525 Relentless super-medium-twin, which has been on the manufacturer's books since 2015.
Several sources indicate that lessor Milestone Aviation has backed away from a tentative deal for 20 units of the 525, likely due to development delays.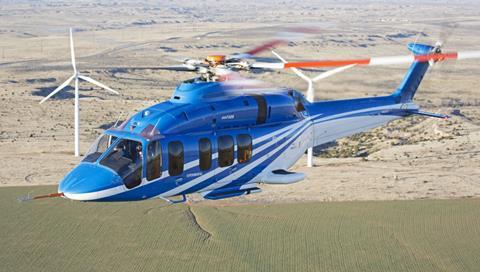 Milestone, part of leasing giant GECAS, signed a letter of intent (LoI) for the 20 helicopters at the 2015 Paris air show; deliveries were due to commence in 2017.
However, certification of the 525 has been repeatedly delayed due to Bell's struggles with the helicopter's development, compounded by the fatal crash of a fight-test prototype in 2016.
Bell's most recent target was to achieve certification of the 9.2t Relentless in 2019, but the manufacturer has now stopped presenting a schedule for service entry.
Despite repeated requests to clarify the status of its LoI, Milestone declines to say whether the commitment is still valid.
"Milestone continues to work closely with Bell on a variety of opportunities. However, we are not in a position to discuss further details," it says.
For its part, Bell says: "Milestone Aviation signed an LoI, expressing their interest in the Bell 525 in 2015. Since then, the programme has been focused on FAA [Federal Aviation Administration] certification and entry into service.
"Bell will continue to share customer interest with their consent, but Bell will not disclose the details of previously announced or future customer LoIs, including Milestone Aviation's, until certification."
In addition, the airframer says that "approximately six production aircraft" are in progress at the company's Amarillo, Texas, assembly facility.
Powered by twin GE Aviation CT7 engines and featuring full fly-by-wire controls – a first for a commercial helicopter – the 525 has been designed principally for the oil and gas, search and rescue, and VIP transport markets.
A serious downturn in the oil and gas segment, which has seen multiple operators seek Chapter 11 bankruptcy protection, has resulted in significant helicopter over-capacity. Nonetheless, Bell insists that the 525 will make its commercial debut in the offshore transportation role.