Airbus Helicopters has secured US certification for the new five-bladed D3 variant of its H145 light-twin, which will enable deliveries to begin there next year.
European approval was obtained in June, with the US Federal Aviation Administration (FAA) certification similarly covering single-pilot instrument flight rules and single-engine operations, plus night-vision goggle capability.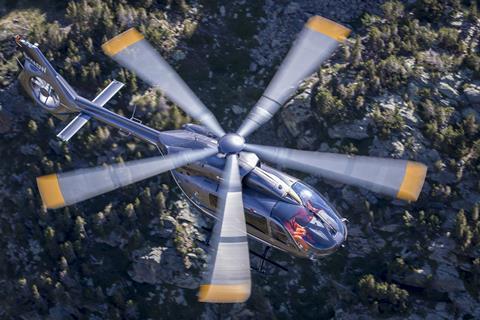 "The FAA certification is an important milestone for the H145 programme, as our customers in North America are eagerly awaiting its arrival and our entire team looks forward to delivering and supporting this new variant," says Romain Trapp, president of the airframer's US subsidiary Airbus Helicopters Inc.
First delivery in the USA will take place in early 2021, says the manufacturer. In addition, the initial retrofit kits for current H145 operators will arrive at the facility of Airbus Helicopters Inc in Columbus, Mississippi before the end of this year.
The new five-bladed, bearingless main rotor, plus changes elsewhere in the helicopter, boosts useful load by 150kg (330lb) and raises maximum take-off weight to 3.8t.