The US Navy (USN) has successfully demonstrated a prototype maritime mine detection system using the unmanned Northrop Grumman MQ-8C Fire Scout helicopter.
The Naval Air Systems Command (NAVAIR), of Pautuxent River, Maryland, on 7 July said that an MQ-8C carrying the experimental Single-system Multi-mission Airborne Mine Detection (SMAMD) system made several demonstration flights off the coast of Eglin AFB in Florida in May.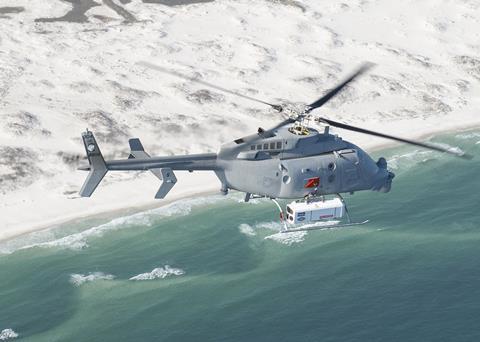 "The team successfully demonstrated that the prototype SMAMD system effectively operates as designed aboard the MQ-8C Fire Scout unmanned helicopter in relevant real world environments," says USN Captain Thomas Lansley, the Fire Scout programme director.
The dual-pod SMAMD, developed by BAE Systems, was tested under day and night conditions against drifting, tethered and moored naval mines in littoral and deep-water areas.
The counter-mine package represents the heaviest payload carried by an MQ-8 to date, NAVAIR says.
In announcing the May test flights, NAVAIR adds the results "proved the reliable and repeatable high performance of the MQ-8C Fire Scout".
The Fire Scout is described by its manufacturer Northrop as a "runway-independent helicopter" capable of autonomous flight in performance of intelligence, surveillance, reconnaissance and targeting missions in a maritime environment.
The rotorcraft is built on a Bell 407 commercial airframe, modified with specialised flight controls, sensors and electromagnetic shielding that allow for fully autonomous flight, including take-off and landing aboard a vessel underway.
The MQ-8C programme reached initial operational capability in June 2019.
The Fire Scout made its first operational deployment in 2021, supporting the USN's counter-narcotics effort in the Caribbean aboard the USS Milwaukee littoral combat ship.