Brazil has taken delivery of the first Airbus Helicopters H225M in what is described as a "naval combat configuration".
To be based at Sao Pedro d'Aldeia naval base near Rio de Janiero, the H225M will perform anti-surface warfare and maritime surveillance missions.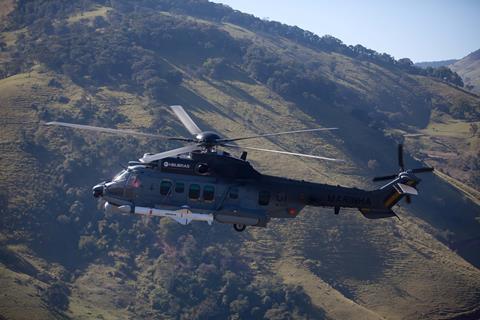 Airbus Helicopters says the configuration is "the most complex ever produced" for the heavy-twin.
While the H225M features a host of new mission systems and sensors, the most striking external difference is the addition of two MBDA AM39 Exocet anti-ship missiles, test firings of which were successfully finalised in June.
Development of the variant was carried out by Helibras – Airbus Helicopters' Brazilian subsidiary – alongside Atech and Airbus Defence & Space.
Brasilia is taking a total of 50 Helibras-assembled H225Ms for the three branches of its armed forces; so far 39 have been delivered.