UK-headquartered Gama Aviation believes it can become a new force in rotary-wing operations as it nears the launch of helicopter air ambulance services in Scotland.
While Gama is better known for its corporate jet business – which includes charter, management and maintenance – the company will from June begin emergency medical services (EMS) flights from bases in Glasgow and Inverness when it takes over a contract from the incumbent, Babcock Mission Critical Services Onshore.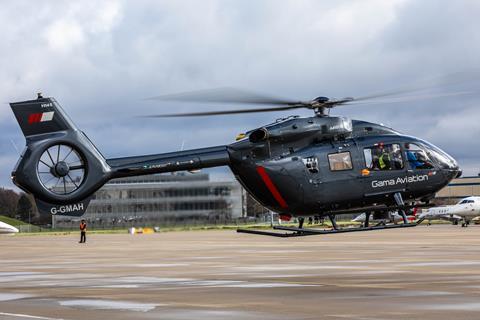 Gama has invested around £20 million ($25 million) to acquire three new Airbus Helicopters H145s for the Scottish Ambulance Service contract: two frontline aircraft and a third for cover.
Speaking at a 2 March event to showcase the spare H145 (G-GMAH) at its Farnborough airport headquarters in Hampshire, Mark Gascoigne, managing director Europe air, said that the move into helicopter services was a logical step for the company.
Gama's vision is to "simplify the complexities of aviation", he says, and, with extensive experience of fixed-wing operations already under its belt, the company felt that "to some extent a helicopter is just another thing that flies".
"If we didn't do helicopter operations we would be missing out a major part of the market; it became a question of when we would do it."
Gascoigne says that a number of UK air ambulance trusts have already approached Gama asking for it to bid for contracts as an alternative to the sector's big two providers: Babcock and Specialist Aviation Services.
"Word is getting round that we are getting into helicopters and the interest coming in makes us feel are making the right choice at the right time," he says, also noting enquiries from overseas.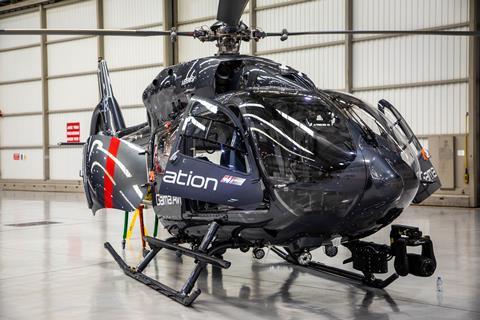 Gama has since 2013 been the prime contractor for air ambulance service provision in Scotland, operating the fixed-wing element with a pair of Beechcraft King Air 200s and subcontracting rotary-wing services to Babcock. A three-year contract extension worth £50 million begins this year.
Gascoigne declines to be drawn on the reasons for taking over the helicopter operation from Babcock, simply saying that the "time has come to do something different going forward".
However, Gama's ambition for the rotary-wing business is not limited to EMS operations: Gascoigne says that it would consider moving into both oil and gas transport and offshore windfarm support "if the time was right".
Although he cautions that that the "opportunity would have to make sense for our shareholders" – particularly given the razor-thin margins in the oil and gas segment – he notes that there is "always room for innovation in the marketplace if you can bring something different to the party".
Although the H145 was selected to fulfil the Scottish requirement, Gascoigne says the company is happy to work with other manufacturers in future.
While the spare helicopter is in Gama's corporate colours, the two other H145s (G-GSAS/G-ISAS) are in a more traditional emergency yellow livery. Completion of the rotorcraft has been performed by Airbus Helicopters at its Oxford airport site in the UK.
In 2019, the airframer handed over 84 examples of the light-twin, according to data from the General Aviation Manufacturers Association. Deliveries this year will include a new H145 for Devon Air Ambulance Trust (G-DAAS), plus the first example of a new five-bladed variant to Norsk Luftmbulanse in Oslo.