The Airbus Helicopters H175 super-medium-twin has received certification from the Civil Aviation Administration of China (CAAC), paving the way for local deliveries.
"The Chinese certification of the H175 is another great achievement in the continued successful partnership between Airbus Helicopters and the Chinese helicopter industry," says Bruno Even, the airframer's chief executive.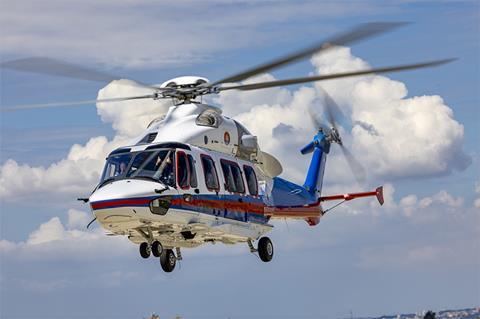 Four Chinese deliveries of the 7.5t H175 will take place in 2023, adds Airbus Helicopters. It does not, however, state the customer or customers who will receive the rotorcraft.
One possibility is China's Ministry of Transport, which in March 2019 ordered two H175s for search and rescue (SAR) missions. While lacking titles or a Chinese registration, an image supplied by Airbus Helicopters shows an H175 in a livery matching that of the ministry's existing fleet.
Hong Kong's Government Flying Service already flies the type for SAR operations: it received its first H175 in 2018, and Cirium fleets data indicates that it has seven examples in service.
The certification comes one year after the Chinese version of the H175, the Avicopter AC352, was approved by CAAC. Also known as the Z-15, the AC352 is powered by Safran Ardiden 3C engines rather than the H175's Pratt & Whitney Canada PT6s.
Airbus Helicopters also reiterated its commitment to work with the Chinese aerospace industry to address the Chinese civil helicopter market.
This story has been modified with additional detail in the fourth and sixth paragraphs.