The Japan Coast Guard has ordered two additional Airbus Helicopters H225s.
The two new rotorcraft will bring the service's fleet of the type to 15 examples, says Airbus Helicopters.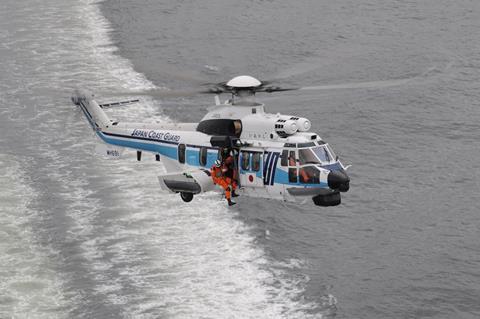 "We thank the Japan Coast Guard for its continued confidence in the H225," said Guillaume Leprince, Managing Director of Airbus Helicopters in Japan.
"The H225 is well regarded as a reference in search-and-rescue operations and security enforcement, and we are certainly happy to see these helicopters effectively deployed in Japan through the years. We have delivered three new H225 to JCG in the recent months, within schedule, and are committed to fully supporting its existing fleet, as well as its upcoming deliveries, ensuring high availability for its operations."
Cirium fleets data indicates that the Japan Coast Guard operates 78 aviation assets, of which 49 are helicopters and 29 are fixed-wing aircraft. Prominent types include the Leonardo Helicopters AW139, with 18 in service, and the Sikorsky S-76, with 14 in service.