UK start-up Hill Helicopters has revealed the first images of a clean-sheet rotorcraft it claims will revolutionise the private aviation segment and also be capable of taking on established players in the wider commercial market.
Described by the company as a "disruptive, ground-up helicopter", the proposed HX50 design will have a 500shp (372kW) turboshaft engine and boast a maximum take-off weight (MTOW) of 1,650kg (3,640lb) and a useful load of around 800kg. It will seat four passengers and one pilot.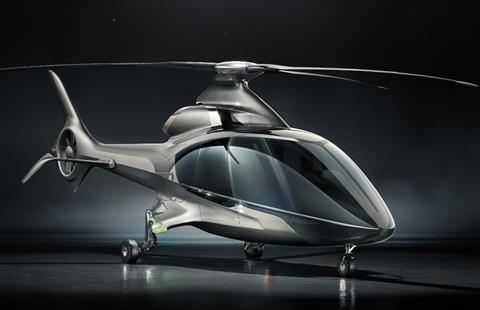 Hill Helicopters was created in July this year and is owned by Jason and Sabrina Hill, via their Hill Group Holdings company. Those two businesses, plus another five UK-registered Hill group entities, were all incorporated at the beginning of July.
Jason Hill additionally runs Dynamic Engineering, which, in 2018, was awarded around £1.4 million ($1.83 million) in grant funding from government body Innovate UK.
According to Innovate UK documents, the project "will develop a next-generation private helicopter that delivers reduced environmental impact, lower noise levels and unprecedented levels of safety, comfort and performance at a game-changing price point".
As of the beginning of August, around £519,000 of that funding had been spent, Innovate UK documents show.
Contrary to the current trend, the HX50 appears to be very much a conventional helicopter with electrical or hybrid power conspicuously absent.
Indeed, the company's communications make little mention of the powerplant, beyond describing it as "optimised".
However, the details of the Innovate UK project state that "key innovations" will include a "modern turbine engine capable of running on a variety of fuel types, including biofuels".
No details of the engine supplier have been revealed, however, leading to speculation of an in-house development.
Indeed, Dynamiq Engineering has some experience in this field: its website refers to the launch of a project covering "an advanced sub-500kW industrial gas turbine unit".
Based on the performance specifications revealed by Hill Helicopters, the HX50 will compete against Bell's 505 Jet Ranger X short-light-single, which features a MTOW of 1,669kg and a 680kg useful load. Empty weight is given as 989kg, compared with 850kg for the HX50.
The 505 is powered by a single Safran Helicopter Engines Arrius 2R engine which has a dry weight of 120kg, according to European Union Aviation Safety Agency documents.
Hill Helicopters says the HX50 will have a composite airframe and three-bladed rotor system, while images of the helicopter show other features including a shrouded tail rotor and retractable landing gear.
The company intends to flight test three prototypes concurrently beginning in the summer of 2022 and aims to accumulate 1,000 flight hours on each aircraft in about 12 months; deliveries are scheduled to start the following year.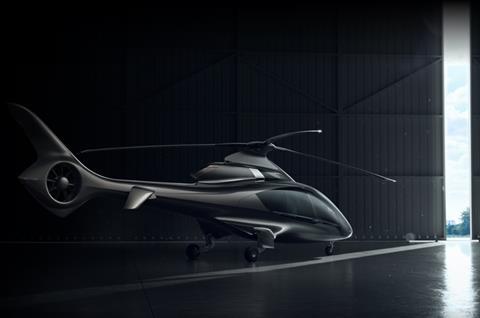 It is a hugely ambitious timeline for a clean-sheet helicopter: Kopter has taken around a decade so far on its all-new single-engined SH09 and even Airbus Helicopters needed five years to bring its H160 medium-twin to market – two years longer than planned.
While declining to reveal details, the company says the certification route will be key to the compressed timeline and highly competitive pricing. Initial approval will be sought from the UK Civil Aviation Authority (CAA).
The support offered by both the CAA and Innovate UK in the post-Brexit environment are "pushing the helicopter to market rather than hindering it", says the company.
Hill Helicopters is based in Rugeley in the centre of England and a final assembly line is likely to be built in nearby Tatenhill which boasts a small airfield with an asphalt runway. The plant will eventually be sized to support production of 500 helicopters each year, dependent on market demand.
Previously the manufacturing site was thought to be in Cornwall, in the far southwest of the country, based on details in the Innovate UK grant. In addition, separate Innovate UK documents show related funding of £99,000 was awarded to Saltash, Cornwall-based Composite Integration as part of the wider Dynamiq Engineering bid.
Aside from the UK government grants, the development is entirely self-funded, according to the company's sales and marketing representative Mischa Gelb.
Gelb is a co-owner of Canadian firm BC Helicopters, based in Abbotsford, British Columbia. Alongside serial venture capital entrepreneur Ruben Dias, whose FastTrack Ventures business is located in nearby Whistler, Gelb has created a separate company to handle the sales and marketing effort for Hill Helicopters.
However, Gelb insists that there has been no investment from FastTrack or BC Helicopters and Hill Helicopters remains 100% owned by Jason and Sabrina Hill.
Gelb declines to reveal how much money Hill Helicopters believes will be required to bring the HX50 to market, but says that, based on its due diligence, "what we do know is that it is enough".
Although initially aimed solely at the private-flyer market, Gelb says the helicopter will shortly after be offered to commercial operators. "That's a guarantee. It's just a matter of time frame and price point."
That gives a potential market of thousands of aircraft, he says, as the HX50 offers a replacement or alternative for several Robinson models, the original Bell 206 Jet Ranger and the new 505, plus the Airbus H120.
"It's ground-breaking, ground-up project," says Gelb. "In every way it's going to be different to what the industry is expecting or is used to."
Gelb says the company has already taken in orders for the HX50, with the first three examples to be acquired by Dias and himself.