The Indian navy has taken delivery of its first two Sikorsky MH-60R anti-submarine warfare (ASW) helicopters.
The pair were handed over in a ceremony at NAS North Island in Sand Diego on 16 July, according to the US and Indian navies.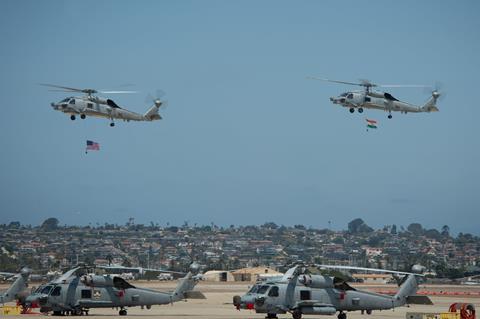 The two rotorcraft were accepted by Taranjit Singh Sandhu, India's ambassador to the USA.
"During a ceremony in San Diego today, the Indian navy inducted the first two of 24 MH-60R Seahawk helicopters from the US Navy; a contract that will enhance our navy-to-navy cooperation, and strengthen our combined subsurface and surface warfare capability and capacity in the Indo-Pacific region," says the US Pacific Fleet.
The delivery came three months after India's first MH-60R conducted its maiden flight from Lockheed Martin's Owego site in New York – Sikorsky is a unit of Lockheed. According to India's defence ministry, the rotorcraft will receive equipment and weapons that are unique to India.
In May 2020, Sikorsky signed a $905 million contract with the US Navy (USN) to produce 24 MH-60Rs.
Twenty-one of the rotorcraft were earmarked for the Indian navy under the auspices of the Foreign Military Sales process, and three for the USN. At the time, Sikorsky said the first Indian delivery was anticipated in the spring of 2021. The three USN helicopters were to aid accelerated training for Indian personnel.
India is also pursuing two other maritime rotorcraft requirements: the 111-unit Naval Utility Helicopter programme and its 123-aircraft Naval Multi Role Helicopter effort.