The Indian navy's first Sikorsky MH-60R anti-submarine warfare (ASW) helicopter has conducted its maiden flight from Lockheed Martin's Owego site in New York.
The flight was announced in a brief tweet by the US Naval Air Systems Command.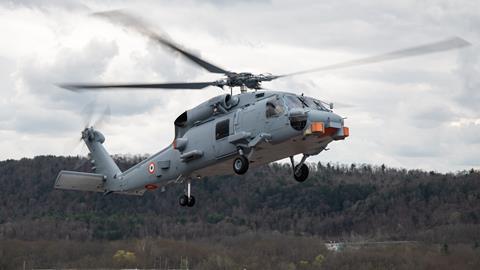 In May 2020, Lockheed unit Sikorsky signed a $905 million contract with the US Navy to produce 24 MH-60Rs.
Twenty-one of the rotorcraft were earmarked for the Indian navy under the auspices of the Foreign Military Sales process, and three for the US Navy (USN). At the time, Sikorsky said the first Indian delivery was anticipated in the spring of 2021. The three USN helicopters were to aid accelerated training for Indian personnel.
Overall, New Delhi will obtain a total of 24 MH-60Rs. The country's Cabinet Committee on Security signed off on the deal in February 2020.
India's quest to acquire a modern ASW helicopter started in 2005, with the Sikorsky S-70B Seahawk emerging as the winner in 2014 before negotiations floundered over cost.
MH-60R: A Global Powerhouse

The first India production aircraft takes flight in Owego, NY. India will receive a total of 24 aircraft. #BZ to the #NAVAIR PMA-299 team on securing three FMS cases in calendar year 2020. Way to #MakeAnImpact! pic.twitter.com/zlRuezYcKB

— NAVAIR (@NAVAIRNews) April 21, 2021
Also being pursued are two other naval helicopter requirements: the 111-unit Naval Utility Helicopter programme and 123-aircraft Naval Multi Role Helicopter effort.
The maiden flight of India's first MH-60R follows news in December 2020 that the type had emerged victorious in a South Korean competition for 12 new ASW helicopters. On 13 April, Lockheed signed a production contract for these rotorcraft.
Cirium fleets data shows that four militaries operate a total of 305 MH-60Rs. The USN is the largest operator, with 263 examples, followed by the Royal Australian Navy with 23, the Royal Saudi Navy with 10, and the Royal Danish Air Force with nine.
In addition to the Indian and South Korean orders, which total 36 examples, Greece's navy has four MH-60Rs on order.