Russian Helicopters has signed an agreement with an Indian joint venture company, related to indigenous work around New Delhi's pending acquisition of 197 Ka-226T helicopters for the air force.
The agreement between Russian Helicopters and Indo-Russian Helicopters defines a roadmap for indigenous production, with details about timelines for setting up production, supplier contracts, the transfer of design material, and the supply of equipment that are consistent with producing the type.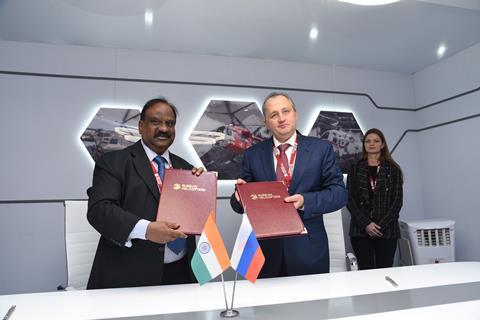 In May 2015, New Delhi's Defence Acquisition Council selected the Ka-226T for a long running requirement for 133 reconnaissance and surveillance helicopters for the army and 64 for the air force. They will replace obsolescent Cheetah and Chetak light helicopters.
It is understood that cost concerns have slowed the procurement.
"The roadmap signed today will be the basis for further development of the Ka-226T localization project in India after the signing of the contract," says Russian Helicopters director general Andrei Boginsky.
Indo-Russian Helicopters is a joint venture between Russian Helicopters, Rosoboronexport, and Hindustan Aeronautics.
The deal envisages 60 examples being produced in Russia, and the balance in India.