Japan Airlines (JAL) and Volocopter will work together to promote urban air mobility for both passengers and goods in Japan.
"The agreement outlines that Volocopter and JAL work on permanent sustainable commercial operations of air taxis in Japan," says JAL.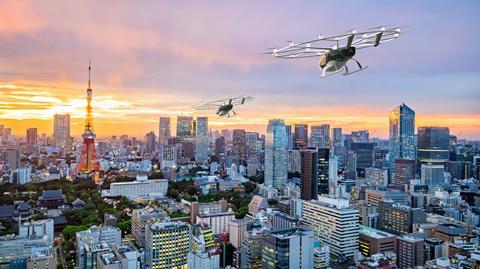 "By establishing local partnerships, jointly approaching Japanese cities and prefectures and working on market demand and social acceptance, JAL and Volocopter will prepare for commercial launch in Japan within the next 3 years."
JAL adds that in February the Japan Airlines Innovation Fund invested in Volocopter during the company's Series C funding, which raised €87 million ($102 million) for the electric take-off and vertical landing (eVTOL) firm.
JAL notes that two other Japanese firms, Mitsui Sumitomo Insurance and MS&AD InterRisk Consulting, have also invested in Volocopter.
"The collaboration of airline operator, insurance provider, and business development partners, as well as an urban air mobility pioneer makes this approach a sustainable and promising one," says JAL.
Amid a challenged airline market owing to the coronavirus pandemic, JAL has pressed ahead with other initiatives, such as using drones to conduct deliveries.
It recently signed a memorandum of understanding with California-based drone maker Matternet to explore medical delivery services by drone, as well as to further develop a drone delivery business in Japan.
Earlier in the month, it joined a consortium of four other Japanese companies in a feasibility study on drone deliveries in Metropolitan Tokyo. The two-year project will see the group study the use of drone deliveries in the medical, food, as well as security sectors.
It also plans to roll out a drone operator training programme in October to train UAV pilots. Known as the JAL Air Mobility Operation Academy, the carrier says the programme, the first in Japan, will "offer the same flight knowledge taught to actual pilots of a commercial airline."