The Japan Coast Guard has ordered two additional H225s, to be used for search and rescue (SAR) and other missions.
Ultimately the coast guard's Super Puma fleet will reach 17 rotorcraft, comprised of 15 H225s and two AS332s, says Airbus. The coast guard received its 10th H225 in February.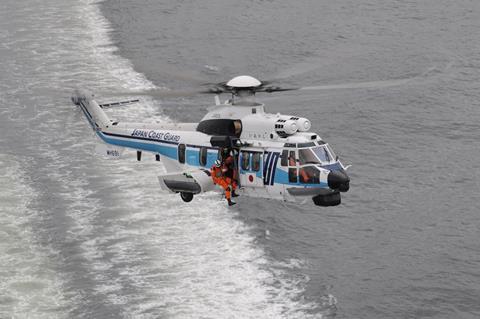 "From the first Super Puma delivery nearly 30 years ago to the latest H225 orders, we greatly appreciate Japan Coast Guard's continued trust in our products and services," says Guillaume Leprince, managing director of Airbus Helicopters in Japan.
"This repeat H225 order reinforces the aircraft's position as a reference in SAR operations and security enforcement. We are proud of how the deployment of the agency's fleet has ensured mission success throughout the years. Airbus will continue to ensure the fleet's high availability, in support of the agency's safe operations."
Airbus Helicopters adds that nearly 30 Super Puma family helicopters are in service in Japan serving with parapublic operators and the defence ministry. Missions include VIP transport, firefighting, and general transport work.
News of the coast guard order follows the delivery of the first H225M to the Republic of Singapore Air Force.