The second prototype of the Korea Aerospace Industries (KAI) 4.5t Light Civil Helicopter (LCH) has conducted its first flight.
The 20-minute flight took place on 5 December at the company's Sacheon production facility. It included forward flight, circling, and other maneuvers.
The first prototype of the LCH flew in July 2018 in France. The 5 December test is significant because it involves a helicopter built by KAI in South Korea. The LCH is based on the Airbus Helicopters H155.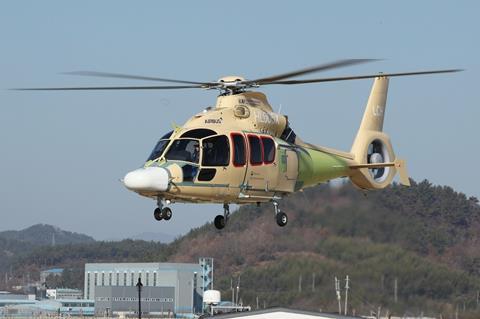 The LCH's Sacheon sortie follows the maiden flight of its military variant, the Light Armed Helicopter (LAH), in July. The LAH also performed a flying display at the Seoul ADEX defence show in October.
The 4.5t LCH is expected to be ready by 2021, with the LAH to be available from 2023.
Corrected: A previous version of this story incorrectly stated the LCH's weight.