A surprise contender for the UK's New Medium Helicopter (NMH) requirement has broken cover, pitching pre-owned Sikorsky UH-60 Black Hawks that would be extensively upgraded at a new facility in the northeast of England.
Teesside airport-based AceHawk Aerospace argues that its ML-70 helicopter will offer the UK armed forces the capability of the Black Hawk without the steep price for brand-new aircraft, while also providing highly skilled jobs for domestic workers.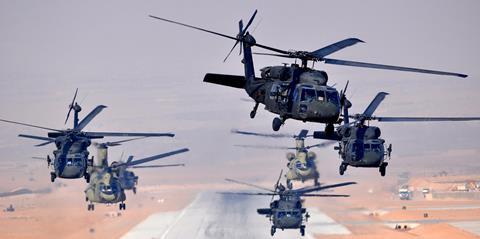 It describes the ML-70 as "an evolved and renewed combat-proven H-60 helicopter", which gains new dynamic components and an updated Garmin G5000 glass cockpit as part of US firm Ace Aeronautics' Ace Deck VL-60 upgrade.
"We genuinely believe that choosing another route would jeopardise the capability, timeline, value-for-money, sustainability and social requirements of the NMH programme," AceHawk states.
Although the Black Hawk is the "accepted aircraft of choice for multi-mission operations with over 15 million flight hours", including 2 million combat hours, "it comes with a premium price" for new aircraft – and a "lengthy waiting list due to demand". There would also be "little UK value" if Sikorsky produces aircraft for the country at its plant in Mielec, Poland, AceHawk argues.
Donor UH-60 airframes would be sourced from the US Army, which divests older aircraft under its Black Hawk Exchange and Sales Team initiative, and from other international operators.
Modification and delivery of the pre-owned Black Hawks to the ML-70 standard would largely take place at AceHawk's facility at Teesside International airport in the northeast of England.
This, it says, would address the government's levelling up agenda, bringing jobs to an area of relatively high unemployment.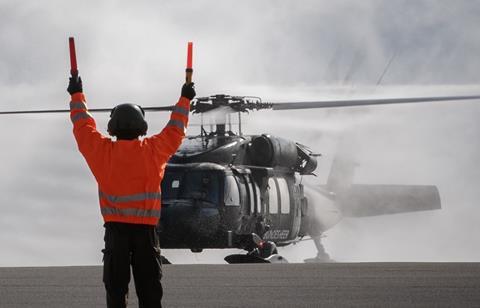 Initial aircraft for the UK would be upgraded at Ace Aeronautics' site in Alabama, but within 18 months production would switch to Teesside. An aircraft and engine MRO facility would be established at the same location.
AceHawk also hopes to target the export market through its relationship with Ace Aeronautics.
Randy Nolin, chief technical officer at Ace Aeronautics, describes the UK business as its European "partner", which helps to make up for its lack of "an international business development team".
"We won't give them everything in Europe but if they come to us with a prospect it's theirs," he says.
"Everybody frowns upon used aircraft – they'll tell you it's been beat up or thrown around – but unlike aircraft with a throw-away time it offers unlimited airframe life. To me it's all about the robustness and the proven combat history of the Black Hawk."
Ace Aeronautics is updating nine UH-60s, plus is sourcing an additional three airframes, for the VL-60 modification programme for Austria.
Despite their similar names and proposed commercial relationship, there are no other links between the two businesses. AceHawk Aerospace was established in April 2021, with Fionnan Collins, Damian Roberts and Darren Wade appointed as directors. The company's shares are split equally between the three.
The NMH is designed to replace the Royal Air Force's 23-strong fleet of Puma HC2 transport helicopters, plus smaller fleets of Bell 212s and 412s, and Airbus Helicopters Dauphins. Service entry for the NMH is pegged for 2025.
This article has been edited to clarify the attribution of a quote in the 11th paragraph and the date when AceHawk was established.