Leonardo Helicopters has secured European certification for the Safran Helicopter Engines Aneto-1K-powered variant of its AW189 super-medium twin.
Issued on 8 June by the European Union Aviation Safety Agency (EASA), the approval adds the higher-power Aneto to the existing GE Aviation CT7-2E1 engine on the type.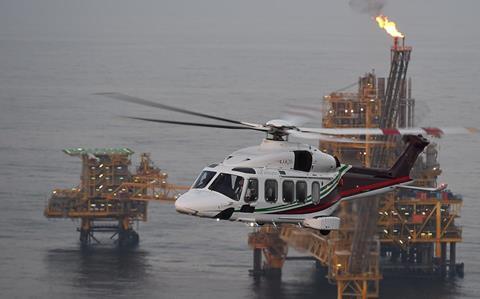 EASA type certification documentation shows the Aneto-1K-equipped variant – the AW189K - can operate up to 15,000ft, some 5,000ft more than the baseline GE-engined model. However, GE-powered helicopters with the new Phase 5 avionics release can also operate to the higher altitude.
Maximum take-off and landing altitude also grows to 14,000ft, up from 8,000ft previously. Maximum take-off weight for the AW189K is 8.6t, in line with the higher limit available on CT7-powered versions.
However, the EASA document notes that "operations in limited icing conditions and operations in known icing conditions are not allowed on AW189 with Safran Aneto-1K engines."
Leonardo Helicopters launched the AW189K in 2017, with the 2,500shp (1,860kW) Aneto-1K achieving certification in December 2019. It provides 25% more power than the CT7, the airframer says.
Gulf Helicopters of Qatar is the launch customer for the variant, with deliveries of an undisclosed quantity due to start in mid-2021.