Leonardo is currently unable to deliver helicopters built at its plant in Vergiate in the north of Italy, as a result of travel restrictions imposed due to the coronavirus outbreak.
This means that customer pilots are unable to collect the completed rotorcraft, says chief executive Alessandro Profumo.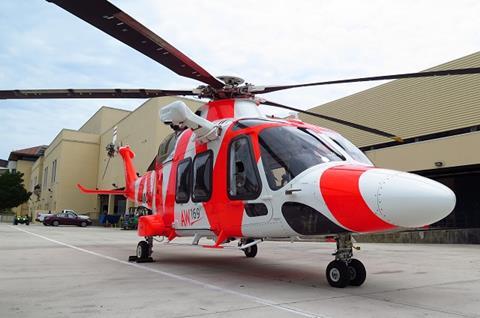 "Clearly at this very moment the acceptance of helicopters cannot be realised because the crews of our customers cannot fly," Profumo told a full-year earnings call on 13 March.
He says the company cannot forecast when deliveries might resume, nor if a production slow-down or suspension will be required, due to uncertainty about how long the coronavirus crisis will persist.
Leonardo Helicopters builds the majority of its products at Vergiate, although it also has additional final assembly capacity in Philadephia.
Profumo says that around 8,000 white-collar employees are currently working from home, while the company is taking additional precautions at its various production plants across Italy.
Crucially, however, there has been no suspension in activities at any site, including the final assembly and check out facility for the Lockheed Martin F-35 in Cameri near Turin or its plant in Grottaglie in southern Italy, which produces large sections for the Boeing 787.
In addition, there has been no disruption to Leonardo's supply chain, says Profumo, although it is managing inventory carefully as a precaution.
However, Profumo says that commercial campaigns have been hit by travel restrictions, although he notes that it is difficult at this stage to predict the impact across the year.