Leonardo Helicopters has bolstered the backlog of its AW609 civil tiltrotor with a four-aircraft commitment from an undisclosed European operator.
To be used for VIP and utility transport missions, the additional tiltrotor orders are a welcome boost for a programme that appeared destined to enter service without a significant backlog in place.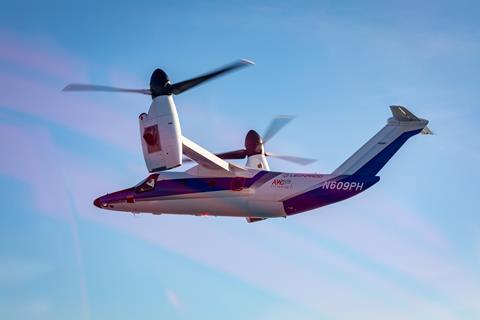 That milestone seems increasingly likely to take place in 2023, and the manufacturer seems ever more confident on its service-entry timeline.
Gian Piero Cutillo, managing director of Leonardo Helicopters, speaking prior to the Heli-Expo show on 7 March, said the addition of a new customer showed positive momentum for the long-running programme.
He is hopeful that US Federal Aviation Administration approval for the AW609 can be achieved late this year or in early 2023, as "we would like to bring this into operational service with the launch customer next year."
Bristow Helicopters will take the first production helicopter, an aircraft that recently began flight tests from the manufacturer's Philadelphia, Pennsylvania production line. The new customer, which is already an operator of Leonardo helicopters, will use the four AW609s for passenger transport missions worldwide
A crucial step on the path to certification should be secured "before the summer break", says Matteo Ragazzi, Leonardo Helicopters head of engineering, with the issue by the FAA of type inspection authorisation and the start of test flights by the agency's pilots,
But because the AW609 is the first tiltrotor, with elements of both fixed- and rotary-wing aircraft, to apply for civil certification, Ragazzi believes the regulator cannot be rushed.
"The FAA is pretty cautious because we are the first of the breed," he says.
Cutillo says customer interest in the platform has only increased since its appearance last year In Dubai which included participation in the flying display at the air show.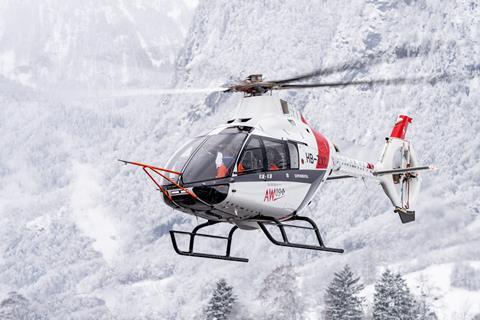 Meanwhile, work continues on the Kopter AW09 light-single as certification now appears set for 2023.
Cutillo declines to speculate on when the AW09 might achieve European certification, noting that "we are really focused on getting the product that we want."
"I am really asking the team to deliver on the [performance] promises not to do it six months earlier – that won't make a difference."
Test activities will be bolstered by the arrival of the first pre-serial aircraft this year, followed shortly by a second example.
Leonardo Helicopters acquired the Kopter AW09 in April 2020 for $185 million. However, the 2.5t-class rotorcaft started life in as the Marenco SwissHelicopter SH09 – the brainchild of Swiss entrepreneur Martin Stucki.
Stucki was ousted from the business in 2017 but has recently resurfaced touting a new design for a light-single helicopter.
However, Cutillo is unconcerned by the potential new rival: "Let's see; anyone involved in this industry knows it is not an easy path, you need to bring the product to a certain level of maturity."