Lithuania is to acquire four Sikorsky UH-60M utility helicopters, plus two options, in a deal worth €181 million ($213 million) as it replaces elderly Soviet-era assets.
Defence minister Raimundas Karoblis and acting US Secretary of Defense Christopher Miller on 13 November signed an agreement covering the purchase.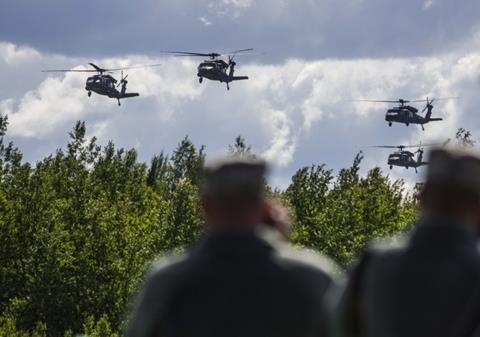 US Congressional approval for the deal under the Foreign Military Sales mechanism was granted earlier this year, where the value of all six helicopters, plus training and support, was stated as $380 million.
Vilnius says it is receiving US support for the purchase worth around €30 million.
Deliveries are due to commence in late 2024, it says, once sufficient personnel have been trained on the type and maintenance and support equipment is in place.
Lithuania will use the new helicopters to replace its Mil Mi-8 fleet, which it says is "in its 30s" and approaching the end of its operational life. Cirium fleets data lists the country's air force as operating a pair of the Russian-built assets.