Lockheed Martin has secured a $504 million contract related to additional Sikorsky MH-60R helicopters for Australia.
The US Navy (USN) contract award follows Canberra's confirmation in May 2022 that it plans to acquire 13 MH-60Rs, adding to 23 in-service examples.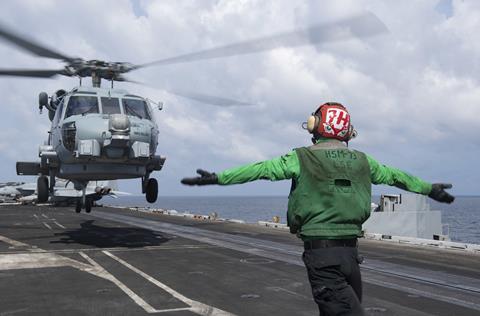 The award covers "production and delivery work", according to a contract announcement. The entire programme will be completed by October 2026.
The original Foreign Military Sales case in October 2021 valued the 12-rotorcraft deal at $985 million.
The Royal Australian Navy originally operated 24 examples, but one was lost in a 2021 crash. While Canberra plans to replace the lost aircraft, which would bring its overall fleet to an even 36, the extra helicopter was not included in the USN's contract announcement.
To ensure commonality and interoperability with the USN – the main operator of the MH-60R – Australia's Defence Science and Technology (DST) Group has implemented the Project SEA 5510 capability assurance programme.
"The role of DST Group is to advise Navy Headquarters, Capability Acquisition and Sustainment Group, the Fleet Air Arm and the Joint Australian/US MH-60R Program Office of the capability impacts and technical risks of the planned upgrades and changes, and assist with achieving the full capability potential of this maritime combat helicopter by providing science and technology support where required," says the DST.
Cirium fleets data indicates that the average age of Australia's 23 in-service MH-60Rs is 7.1 years.