Russian Helicopters has flown the first example of the upgraded Kazan Ansat-M light-twin helicopter, which boasts enhanced range and flight performance.
Under an initiative funded by Russia's trade ministry, which has provided Rb230 million ($3.1 million) for the work, the longer-range helicopters will be delivered to regional airlines.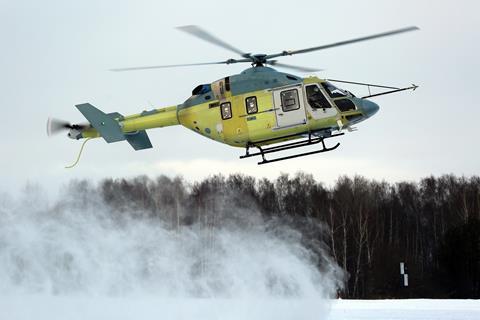 An extra fuel tank lifts range to 431nm (800km) from 272nm previously. In addition, the amount of composite material in the aircraft increases to 35%, from 15%, helping to reduce empty weight.
Changes have also been made to the tail, increasing the size and positioning of the stabiliser end plates, which has improved stability, says the manufacturer.
New, more aerodynamic main and tail rotor blades are also being developed, in order to enhance manoeuvrability and reduce noise in the cabin.
Russian Helicopters also anticipates that the new blades will increase the maximum take-off and landing altitude, cruise speed, ceiling, and take-off weight.
Avionics have also been upgraded, allowing flights in instrument flight rules conditions. Later this year the helicopter will also gain a three-axis autopilot and new anti-icing system.
Yakutsk-based launch customer Polar Airlines has signed for seven Ansat-Ms, with deliveries of the first example due this year.
"I am sure that the new helicopter will contribute to the solution of tasks to improve the transport accessibility of remote areas of our country," says Denis Manturov, Russian trade and industry minister.
Powered by a pair of Pratt & Whitney Canada PW207K engines, the Ansat boasts a maximum take-off weight of 3.6t.