Five new Sikorsky S-70i Black Hawk Helicopters have arrived in the Philippines, the first batch of a 16-rotorcraft order.
News of the delivery emerged on the Facebook page of the Polish embassy in Manila – the helicopters are being produced in Poland by Lockheed Martin unit PZL Mielec.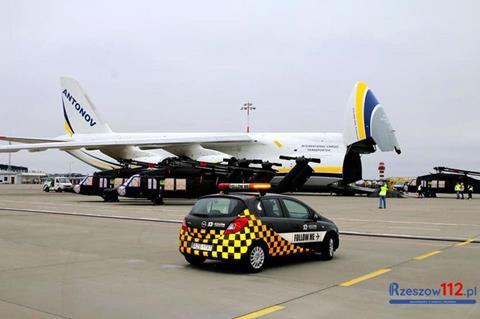 The five helicopters, equipped in a combat utility configuration, were ferried the Clark Air Force Base by a chartered Antonov An-124 strategic transport.
The helicopters, procured on a direct commercial sales basis, will be operated by the country's air force. Sikorsky had previously said that deliveries of the 16 rotorcraft would commence in the fourth quarter of 2020, and be completed in 2021.
Manila had previously decided to fill the air force requirement for transport helicopters with 16 Bell 412EPIs. Unveiled at the 2018 Singapore air show, that commitment was axed just seven days later on the orders of president Rodrigo Duterte.
Bell assembles the 412EPI at its plant in Mirabel, Canada, and had faced criticism over the sale due to alleged human rights violations by Manila, triggering the cancellation. Subsequently, Manila opted for 16 S-70is.
In June, Sikorsky said it would offer its S-70i Armed Black Hawk attack helicopter to the Philippines for a separate attack helicopter requirement.
The proposal for six helicopters would build on the existing S-70i deal, said Jon Rudy, regional executive at Sikorsky, a unit of Lockheed. The six armed Black Hawks would also be sold on a direct commercial sales basis.
"We believe that Armed Black Hawk is compelling for the Philippines air force… in that it is going to have 100% baseline commonality with their combat utility helicopters," said Rudy. "So you can imagine the economies that are associated with support, training, and logistics."
The Bell AH-1 Zulu and Boeing AH-64E Apache are also in contention for the attack helicopter deal, but offered under the US government's Foreign Military Sales mechanism.