MD Helicopters is hoping for a follow-on sale of helicopters in Malaysia, as it eyes growth in the broader Asia-Pacific region.
A notable attraction at this year's Langkawi International Maritime and Aerospace (LIMA) exhibition are six new MD530Gs, which were delivered to Malaysia's army in 2022. The type is appearing on static, and also participated in the show's opening ceremony.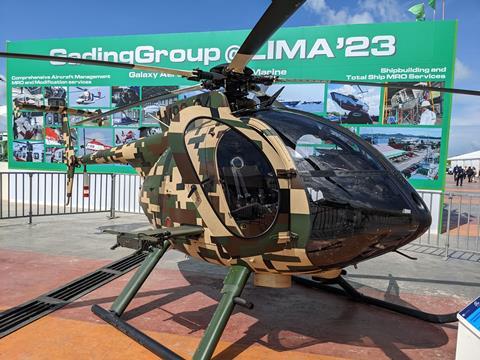 The six rotorcraft – delivery of which was delayed for several years – are primarily used for training. Malaysia could obtain six more. If it does so, the original six can be armed for the light attack role.
Senior director, sales – Asia-Pacific, John Williams notes that MD Helicopters has a strong history in Asia, with a base of nearly 100 MD rotorcraft in various configurations in countries such as the Philippines, Vietnam, and South Korea.
He forecasts a potential market over the next three years for 100-150 helicopters, mainly on the military side.
The company also sees opportunities for sales in the parapublic and civilian market. Williams notes that the MD530 is very popular with law enforcement agencies in the USA.
"We have a product that is very viable," says Williams. "It's not aspirational, it's real, it exists, and it's fielded. Customers like it and they're asking us for it."
Malaysia's MD530Gs feature the L3Harris Wescam MX10D sensor and Tek Fusions Pathfinder Ares Weapons Management System. In addition to delivering the six MD530Gs to Malaysia in 2022, the company also provided pilot and maintainer training.