MD Helicopters has secured a pair of contracts worth a total of $43.9 million related to support for the Afghan air force's MD530F light attack helicopters.
The first contract, awarded by the US Army Contracting Command, is worth $14.5 million and is a six-month extension of MD Helicopters' existing contract to provide programme management, contractor logistics support, materials, and remote operations.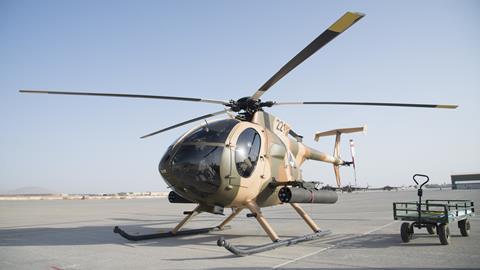 The second contract is worth $29.4 million and modifies the company's original support contract. It also runs for six months.
Work for both contracts will take place in Mesa, Arizona; Kabul, Afghanistan; and Al-Ain, the United Arab Emirates.
"While US forces begin the drawdown process in Afghanistan, these contracts allow us to help Afghanistan's air force maintain stability on their own through the continued support of their aircraft," says Nick Nenadovic, vice-president, aftermarket and customer support.
"This further highlights the value our government and the Afghan air force put on the MD530F. It is with tremendous pride we can continue providing the highest level of support for both our government and allies."
The administration of US President Joe Biden is in the midst of withdrawing all forces from Afghanistan, where the USA has been embroiled in a war since 2001.
Cirium fleets data indicates that the Afghan air force operates 209 fixed- and rotary-wing platforms. These include 75 MD530Fs. Other attack assets include 25 Embraer/Sierra Nevada A-29B Super Tucanos.