Oil and gas operators working from Aberdeen in the north of Scotland have assembled a fleet of helicopters for emergency repatriation flights of offshore staff as a response to the coronavirus crisis.
All four firms based at the Scottish airport – Babcock Offshore, Bristow Helicopters, CHC Scotia, and NHV – have set aside dedicated rotorcraft for the medical mission in support of their oil and gas clients.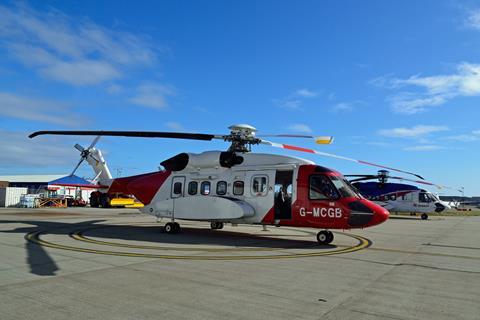 Bristow is operating three specially outfitted Sikorsky S-92s which were previously in a search and rescue (SAR) configuration.
Although the SAR seating layout has been retained, as it allows sufficient separation between all on board, additions include protective curtains separating the cockpit from the passenger area and airflow systems. An on-board medic also travels with each flight, says Bristow.
Babcock, meanwhile, is providing a specially adapted S-92 as its coronavirus response, although if demand requires it could add extra capacity from its S-92 or Airbus Helicopters H175 fleets.
CHC says it has allocated a Leonardo Helicopters AW189 alongside an S-92A for the Covid-19 passenger flights. Both rotorcraft were previously used for crew change operations and have been adapted for the new mission.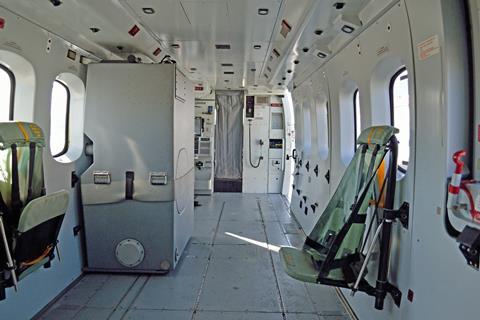 Lastly, NHV is using a former crew change H175 which has been reconfigured from a 16- to a six-seat layout "allowing maximum separation between the crew and passengers".
"All flights involving the repatriation of symptomatic personnel are accompanied by a paramedic who is available not only for medical purposes but also as reassurance to the passengers during this naturally anxious time," says NHV.
Aircraft, crews and passengers are managed in line with procedures drawn up by industry body Oil and Gas UK and Health Protection Scotland.