Insolvency practitioners in charge of Germany's Wiking Helikopter Service have found a buyer for part of the firm, but will shut the remainder by year-end as contracts wind down.
Wiking has been in provisional administration since June, with Dr Christian Kaufmann from restructuring specialist Pluta Rechtsanwalts appointed to run the business by a Wilhelmshaven court.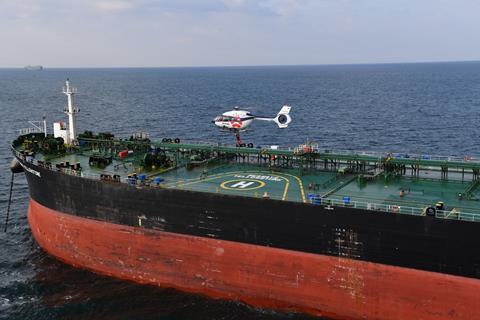 Sande, Lower Saxony-headquartered Wiking specialised in offshore transport operations: delivering maintenance crews to wind farms, and transferring harbour pilots to ships.
Pluta has now struck an agreement with Emden-based Northern Helicopter, subject to conditions, for the latter business, which includes a pair of Airbus Helicopters H145s. In addition, Northern will also acquire Wiking's maintenance and training units.
In total, around 50 employees will transfer to the new owners. Northern operates a fleet of five H155/AS365 Dauphin helicopters, plus a pair of EC145s.
However, in the absence of concrete interest for the crew-change operation, Pluta is to close the division at year-end in line with the completion of a contract; 44 jobs will be lost, it adds, in addition to eight employees who have already left the company.
Dr Kaufmann says: "We have held numerous talks with investors in a broad-based M&A process.
"Overall, there were very many interested parties. However, in the end there was no binding offer for the crew change unit. This is very regrettable, especially for the motivated employees."
Wiking's emergency medical services operation had closed prior to the business entering administration.
It blamed rising fuel costs, loss-making contracts and the lingering effects of the coronavirus pandemic for its financial problems.

Dominic Perry is deputy editor of Flight International but also contributes extensively to flightglobal.com. Although specialising in the coverage of the helicopter industry, he has written on most topics in aerospace – be they commercial, defence or business aviation. In addition, there has been an increasing focus on the decarbonisation of the industry and zero-emission flight initiatives.
View full Profile