Norway is to lease in helicopters to perform border protection and other coastguard missions after its fleet of NH Industries NH90s failed to meet avilability targets.
Disclosing the move on 26 March, Oslo's defence ministry said that the "phasing in and building the operational capacity of the NH90" has proceeded "more slowly than expected".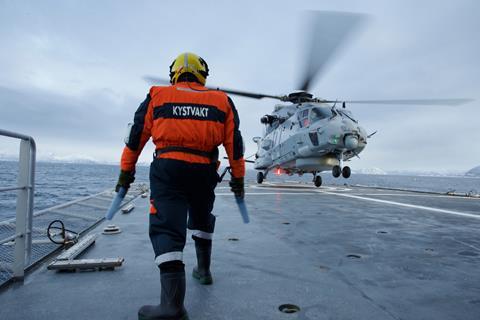 Norway's availability requirements have proved a "bigger challenge" to the manufacturer – a three-way venture between Airbus Helicopters, Leonardo Helicopters and Fokker – than previously envisaged.
In addition, the impact of the coronavirus pandemic last year on northern Italy "has created further challenges". Leonardo Helicopters builds the maritime variant of the NH90 at its facility at Tessera near Venice.
Norway's original plan called for eight NH90s to be employed on coastguard missions, while a further six examples would be used for anti-submarine warfare (ASW) and naval support missions.
However, the defence ministry now says that following a review of alternatives it has concluded that there are other helicopters that can satisfy its requirements and "part of this need should be met with the hiring of helicopter capacity".
As such, Oslo will seek "a lease arrangement" for additional rotorcraft. "This will be a supplement to the NH90 and deals with a need that does not require an equally specialised and complex platform as the NH90," says the defence ministry.
Although a 2018 report by the country's FFI defence research institute warned of low availability rates of around 2,100 flight hours per year from the type, it concluded that "under certain conditions" this could be increased to the 5,400h required to meet both the coastguard and ASW requirements.
That contradicted the FFI's own prior recommendation that the only way to achieve availability targets would be to use all 14 NH90s to support the Royal Norwegian Navy's frigate fleet.