Airbus Helicopters is confident that its H175 will bounce back from two consecutive years of low sales amid a continued demand slump for offshore-roled rotorcraft.
In 2021, the super-medium-class H175 registered just four orders, which, although an improvement on the previous year's figure of zero, still lagged every other type in the airframer's range.
But briefing reporters on the firm's order and delivery performance on 26 January, Bruno Even, Airbus Helicopters chief executive, said that he was convinced the H175's time would come, even if it might struggle in the short term.
"The H175's main challenge is more a market challenge rather than a competitiveness issue," he says, noting that "requests for super-medium and heavy helicopters are still low".
Even says the helicopter is "well-positioned" and has been "well received" by operators for its performance levels. "But we don't see yet the market recovery," he adds.
Although the price of oil has risen steadily since hitting a low point in early 2020 – with Brent Crude on 26 January topping $90 a barrel for the first time since 2014 – "we have not yet seen an impact on the oil and gas market for helicopters", says Even, who thinks it "will take time to recover".
But he sees "opportunity in the coming period" as operators look to renew their fleets, even of heavier helicopters like the Sikorsky S-92. The H175, he says, "can perform most of the missions of the S-92 at a much lower cost".
Increased focus on sustainability from both operators and their customers will also drive the acquisition of new-generation helicopters with lower levels of fuel consumption, he adds.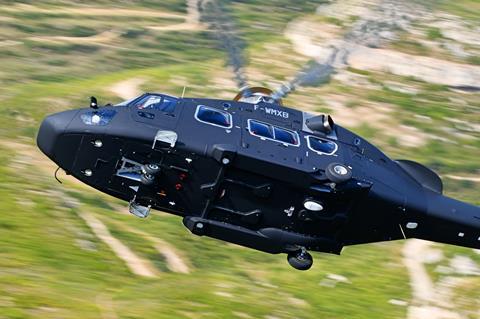 In addition, the H175 programme may benefit from the decision last year to launch a military M-model variant.
The H175M is being pitched to the UK as a replacement for the Royal Air Force's fleet of Puma HC2 helicopters, plus three other types.
If selected as the winner of the nascent New Medium Helicopter competition – which is due to kick off in February – Airbus has pledged to set up a new final assembly line for the H175M at its Broughton facility in North Wales.
As many as 44 helicopters could be purchased under NMH, but Even also sees "significant" export prospects for the H175M.
"Even if we do not win in the UK – and I'm convinced we will win – it will not change the fact that there's a requirement for a military helicopter in this class and the H175M will be our answer to the market requirement."
An alternative production location should the H175M not win in the UK would have to be addressed later, he says.
"At present we consider a scenario where we will win in the UK and we will base production of this helicopter in the UK."