Paris has ordered eight additional Airbus Helicopters H225M rotorcraft as well as an additional prototype of the VSR700 unmanned helicopter.
The order comes under the auspices of a 2020 programme to support France's aerospace sector, says Airbus Helicopters.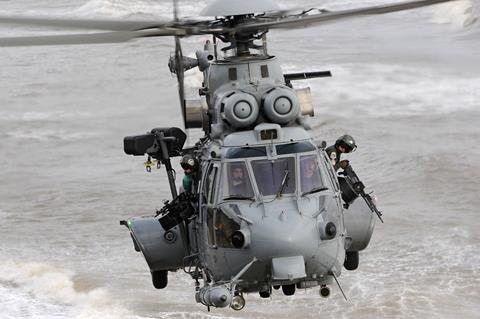 "We are very thankful to the French government for their support of the aeronautical industry through the Stimulus plan," says Airbus Helicopters chief executive Bruno Even.
"This is a win-win situation as the aircraft fulfill a real operational need for the French armed forces and this order allows Airbus Helicopters to secure jobs and key skills in the medium term. The French armed forces are facing increasing and varied challenges and I am confident that the H225M, thanks to its excellent range and multirole capacity, will be an efficient and reliable asset that will enhance their operations at home and abroad."
The 11t H225Ms will serve with the French air force, while the VSR700 is being developed for the French navy. Deliveries of the new H225Ms will commence in 2024, and replace legacy AS332M Super Pumas.
According to Cirium fleets data, the French air force has 78 in-service rotorcraft, all produced by Airbus Helicopters. These comprise 40 AS555ANs, 23 SA330s, 11 H225Ms, and four AS332Ms. The average age for the Pumas is 44.1 years.
The developmental VSR700 had its maiden flight in 2020 and is in the process of expanding its flight envelope. It has a maximum take-off weight in the 500-1,000kg (1,100-2,200lb) range, says Airbus Helicopters.
The company recently celebrated another milestone, with the delivery of the first H225M to the Republic of Singapore Air Force from a 2016 order.
Singapore has not officially disclosed the number of rotorcraft ordered in 2016, but Cirium data suggests it is acquiring 16 examples.