The Philippine Air Force (PAF) has received five additional Sikorsky S-70i Black Hawks, as it also awaits delivery of two Turkish Aerospace (TAI) T129 ATAK attack helicopters.
The five S-70i rotorcraft were flown to Manila aboard an Antonov An-124 Ruslan strategic transport operated by Antonov Airlines, according the air force's Facebook page.
This brings to 11 the air force's fleet of Black Hawks produced by Sikorsky's Polish subsidary PZL-Mielec. The PAF will receive the last five examples of its 16-unit order by the end of 2021.
The 16 rotorcraft were acquired via a government-to-government transaction with Poland, and the deal is worth $241 million, according the Philippine News Agency.
The delivery follows a 25 May statement from the Department of National Defense that the first pair of T129s from a six-unit order will arrive in September. The PAF will receive an additional pair in February 2022, and the final pair in February 2023.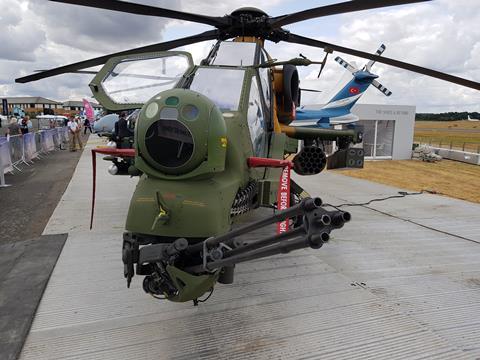 One potential hold-up in the T129 deal concerned whether the US government would provide an export licence for the type's US-built LHTEC T800 engines. Media reports in May, however, suggest that the licence was approved.
The T129 was developed from the AgustaWestland AW129 under Turkey's ATAK programme. According to TAI, it is equipped with a 20mm cannon, and can carry a range of missiles and rockets.
Manila is in the process of revamping its rotorcraft capabilities. In February, cabinet secretary Karlo Nograles confirmed an intention to order 15 additional S-70is.
President Rodrigo Duterte had cleared the plan, but the order was contingent on negotiations with Sikorsky and securing funding in the Philippines' 2022 budget.