The Philippine air force (PAF) has taken delivery of a final five Sikorsky S-70i Black Hawk helicopters, bringing its total fleet to 15 examples.
The five S-70is were delivered from Sikorsky's PZL-Mielec factory in Poland on 4 November, according the air force's Facebook page.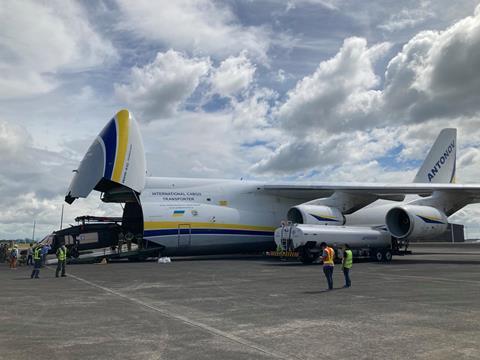 As with the other rotorcraft from the order, the last five arrived at Clark air base aboard an Antonov An-124 strategic transport operated by Antonov Airlines.
Air Force Lietenant General Greg Almerol says the assets will be useful countering a long-running communist insurgency on the Philippines' main island of Mindanao.
The delivery stems from a $241 million deal in 2019 between the Filipino and Polish governments for 16 Black Hawks. The first six examples arrived in November 2020, with the next five delivered in June.
The fleet numbers 15 aircraft following the crash of an S-70i on 23 June, which killed all six aboard. The crash of the newly-delivered rotorcraft took place during a night training mission, and resulted in the fleet being temporarily grounded.
In September, the PAF attributed the crash to the S-70i inadvertently entering a thunderstorm, causing the "spatial disorientation" of the pilot.
Separately, on 14 October the USA's embassy in Manila announced that it handed over four Insitu ScanEagle unmanned air vehicles to the PAF. These will support intelligence, surveillance and reconnaissance missions, says the embassy.
"We remain committed to our promises on helping modernise the armed forces of the Philippines, and we hope this will further strengthen our combined capabilities in working together towards a free and open Indo-Pacific," says USA Charge d'Affaires Heather Variava.