Poland is to acquire the Leonardo Helicopters AW149 super-medium-twin as part of a wide-ranging package of defence investment.
Speaking on 13 June, minister of national defence Mariusz Blaszczak said Warsaw is continuing to modernise its armed forces in response to the growing threat from Russia.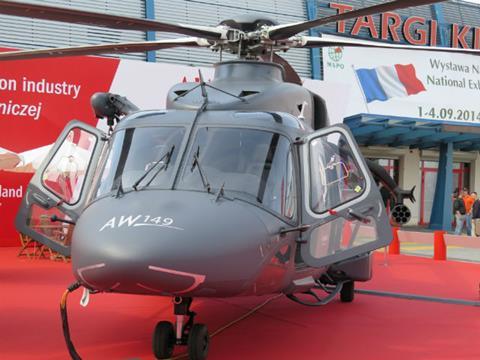 A contract will be signed "in the near future" covering "AW149 multi-role support helicopters", he says, alongside improved armoured vehicles and tank destroyers.
No details of the quantity of AW149s to be acquired have been disclosed, although Polish news site Defence 24 reports that 32 helicopters will be purchased as part of the nation's Perkoz programme.
The Polish Land Forces currently operate 44 Mil Mi-2 and 27 Mi-8/17 helicopters, Cirium fleets data records.
Leonardo Helicopters had previously proposed the smaller AW139W for the requirement, with the intermediate-twins to be built at the manufacturer's Polish subsidiary PZL-Swidnik.
Defence 24 says the AW149s will also be assembled in Swidnik. Leonardo Helicopters is also offering the same platform to the UK for its New Medium Helicopter requirement, although these would be built in Yeovil in southwest England.
The manufacturer has promised that Yeovil-built AW149s will also be offered to the export market.
Leonardo Helicopters indicates the proposed Polish assembly facility – the second such line in Europe – will not affect its plans elsewhere. "The AW149 overall proposal for the UK NMH requirement is solid with no impact to other opportunities," it says.
To date, the AW149 has only been selected by Egypt and Thailand. It had been offered to Poland in the middle of last decade for a 70-unit requirement ultimately won by the Airbus Helicopters H225M before that acquisition was cancelled.
This story has been updated with comment from Leonardo Helicopters in the ninth paragraph

Dominic Perry is deputy editor of Flight International but also contributes extensively to flightglobal.com. Although specialising in the coverage of the helicopter industry, he has written on most topics in aerospace – be they commercial, defence or business aviation. In addition, there has been an increasing focus on the decarbonisation of the industry and zero-emission flight initiatives.
View full Profile