Poland intends to acquire almost 100 new attack helicopters, having selected the Boeing AH-64E Apache for its long-running Kruk requirement.
Confirming the decision in a tweet, Polish defence minister Mariusz Blaszczak said Warsaw has requested "the acquisition of 96 AH-64E Apache helicopters in the latest Guardian version".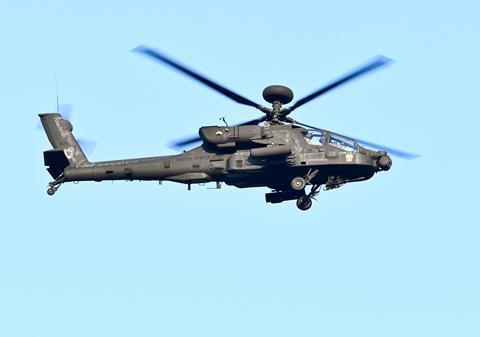 In addition to the helicopters, Warsaw is also requesting technology transfer, he says.
To be operated by the Polish Land Forces, the Apaches will replace the country's current 30-strong fleet of Russian-built Mil Mi-24/35 helicopters.
Should the planned acquisition total be confirmed, it will make Poland by far and away the largest international customer for the Boeing attack type.
FlightGlobal's latest World Air Forces directory lists Israel and Egypt as having the largest current inventories, behind the USA, operating 48 and 46 examples respectively.
Although the UK will eventually field 50 AH-64Es, its fleet is temporarily reduced as airframes cycle through a remanufacturing process.
Poland selected the AH-64E ahead of the Bell AH-1Z Viper. Boeing says it is "honoured" by the decision, adding: "During the procurement process, Boeing established significant cooperative partnerships across Polish government and industry.
"Our partnership with the Polish Armaments Group [PGZ] in particular will continue to expand as we implement training and sustainment efforts with local industry."
Warsaw has boosted its defence budget significantly following Russia's late-February invasion of Ukraine; in recent months it has also has ordered 32 Leonardo Helicopters AW149s and 48 Korea Aerospace Industries FA-50PLs in recent months.

Dominic Perry is deputy editor of Flight International but also contributes extensively to flightglobal.com. Although specialising in the coverage of the helicopter industry, he has written on most topics in aerospace – be they commercial, defence or business aviation. In addition, there has been an increasing focus on the decarbonisation of the industry and zero-emission flight initiatives.
View full Profile