Qatar has received its first of 28 NH Industries NH90 helicopters from a €3 billion ($3.4 billion) contract dating from 2018.
Delivery of the lead troop transport-configured example took place around 10 December, according to a post on the LinkedIn website by Nathalie Tarnaud Laude, head of NH90 program at Airbus Helicopters and president of NH Industries.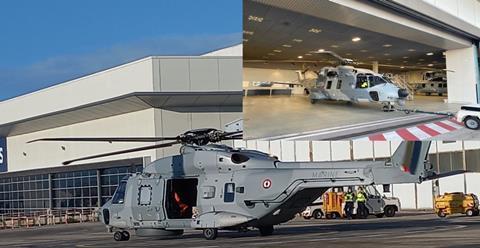 She writes: "At the end of last week, we on time delivered two emblematic aircraft: the last serial French navy aircraft and the first serial Qatari TTH aircraft." The French navy says it received the helicopter – its 27th example – on 10 December.
The NH90 was transported to the Middle East from its production line in Marignane, France in a Qatar Emiri Air Force Boeing C-17.
Qatar is taking 16 NH90 TTHs and 12 of the NFH naval variant, with the latter assembled in Tessera, Italy at the facilities of Leonardo Helicopters, which is the prime contractor for the Qatar deal.
Doha's initial NFH rotorcraft is complete and it is understood this will be delivered shortly.
NH Indusries is a three-way consortium involving Airbus Helicopters, Leonardo Helicopters and Fokker.