Romania has cleared the acquisition of 12 Sikorsky S-70i Black Hawks for operation by its SMURD emergency services organisation.
To be built by Sikorsky's Polish subsidiary PZL Mielec, the helicopters will be completed locally by partner companies including Romaero and Deltamed. Deliveries are due to begin in 2023.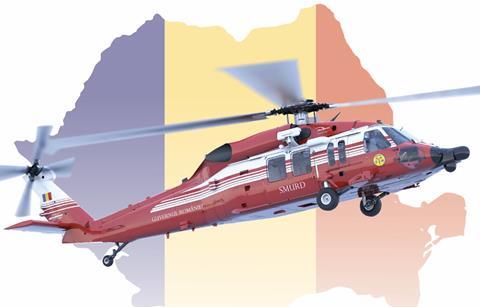 A framework agreement covering the acquisition of an initial six examples was signed on 9 November by Lucian Bode, Romanian minister of internal affairs. The contract is worth €270 million ($312 million), the ministry says.
Intended missions include maritime and land search and rescue, firefighting, medical evacuation and reconnaissance.
Sikorsky's Black Hawk offer saw off competition from Leonardo Helicopters and Airbus Helicopters.
SMURD currently operates a fleet of 16 Airbus Helicopters H135 light-twins, according to Cirium fleets data.