Safran Helicopter Engines (SHE) intends to make its 'eco-mode' stop-start system a "market standard" on all twin-engined applications of its turboshaft range, according to the manufacturer's chief executive.
Bordes, France-based SHE has developed the technology to enable one of the two powerplants aboard a twin-engined helicopter to be idled, and rapidly restarted, in flight, which will cut fuel burn by 20%.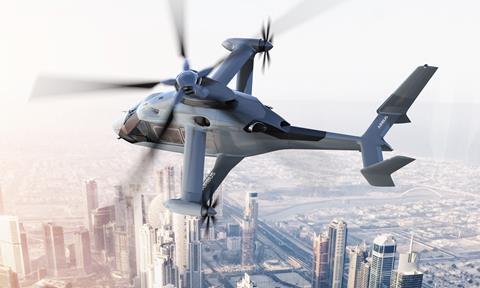 To date, the eco-mode system has only been applied to the Aneto-1X engines that will power Airbus Helicopters' Racer technology demonstrator. Maiden sortie of compound rotorcraft is due later this year, with the engine stop-start functionality to be assessed later in the flight-test programme.
But the engine maker has ambitions beyond the so-far solitary application on the Aneto, Franck Saudo, SHE chief executive, told journalists on 27 February.
"There are plans to make it the market standard," he says. "But for now it starts with this demonstrator."
Saudo declines to clarify when the system might enter service, or on which engines it could feature. "Step one is the demonstration next year," he adds.
To date, ground tests of the system have been carried out, he says: "We have been maturing this technology, working on its different parameters over time with the ambition to go and fly on the Racer demonstrator."
Meanwhile, the only other variant of the Aneto engine, the 2,500shp (1,860kW)-rated -1K model for the Leonardo Helicopters AW189K super-medium-twin, may finally be edging closer to service entry.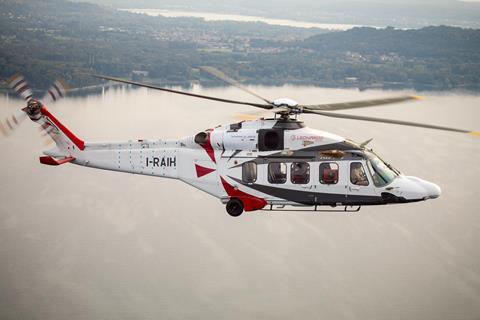 Launched in 2017 to offer a higher-power option for hot and high operations over the baseline model's stock GE Aerospace CT7 powerplants, the AW189K has struggled to find a launch customer.
An initial commitment in 2020 from Gulf Helicopters for a single example appears to have lapsed, with no replacement in sight.
But Saudo says "we now have the first customer which has been contracted for the AW189K".
He does not name the operator but confirms it is not Gulf Helicopters. Leonardo Helicopters also declines to identify the customer.
Saudo, however, is optimistic about the Aneto-1K's wider prospects, singling out the revival of the oil and gas market as potentially driving sales of super-medium-class helicopters including the AW189K.
Of the three super-mediums offered to the market – the in-service AW189 and Airbus Helicopters H175, plus the developmental Bell 525 Relentless – Safran only has a presence on the Leonardo aircraft.

Dominic Perry is deputy editor of Flight International but also contributes extensively to flightglobal.com. Although specialising in the coverage of the helicopter industry, he has written on most topics in aerospace – be they commercial, defence or business aviation. In addition, there has been an increasing focus on the decarbonisation of the industry and zero-emission flight initiatives.
View full Profile