Sikorsky has secured a $200 million sustainment contract for the Royal Australian Navy's fleet of 24 MH-60R maritime helicopters.
The five-year contract will see the Lockheed Martin unit support the fleet at the Albatross Aviation Technology Park in the town of Nowra, where the helicopters as based, says Sikorsky.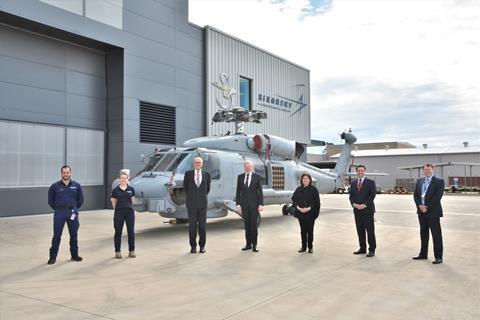 "Sikorsky Australia has a proven track record as a sustainment partner to the Royal Australian Navy Fleet Air Arm and is an exemplar of Australian industry capability," says Lockheed Martin Australia chief executive Joe North.
"As the world's most advanced maritime helicopter, the MH-60R is a critical capability for the Royal Australian Navy to defend Australia's national interests and Sikorsky Australia engineers are proud to work alongside our service personnel to ensure the fleet's operational availability is maximised."
Cirium fleets data indicates that that there are 304 MH-60Rs in service globally. The largest operator is the US Navy, with 278 in its inventory.
In addition to Australia, other operators include Denmark and Saudi Arabia. In addition, the Indian navy has 24 examples on order.