Lessor LCI can "accelerate" its growth path on an "exponential scale" following the acquisition of a substantial stake in the business by a Japanese finance house, its chief executive claims.
Revealed on 29 March, the deal sees Sumitomo Mitsui Finance and Leasing Company (SMFL) purchase a 35% stake in LCI from its parent the Libra Group for an undisclosed figure.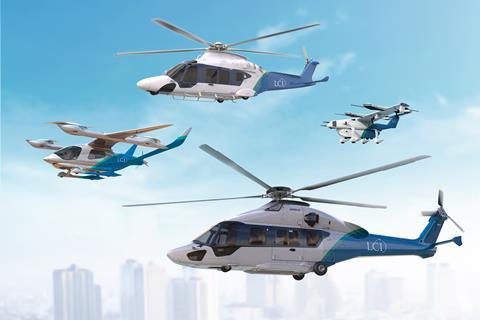 Jaspal Jandu, LCI chief executive, sees the deal as transformative, enabling the lessor to take advantage of predicted strong demand for new helicopters and advanced air mobility platforms over the coming decades.
The agreement builds on an existing joint venture between the pair established in 2020 that has grown into a business managing 50 helicopters and worth $550 million.
"I would like to see this relationship accelerate what we have been doing already," says Jandu.
Previous expansion has been forecast on a linear scale, he says, "but there is nothing wrong thinking on an exponential scale given the [industry's] requirements over the next 30 years."
SMFL and Libra Group plan to grow LCI's business by $1.5 billion over the next three to five years with significant capital investment by the shareholders to be provided on a pro-rata basis.
"A large part" of that $1.5 billion is accounted for by LCI's existing order book and its deal pipeline, for example for sale-and-leaseback transactions with operators, says Jandu.
LCI has firm orders for two Airbus Helicopters H175 super-mediums, plus four options, alongside commitments for 125 Beta Technologies ALIA electric vertical take-off and landing aircraft and 40 Elroy Air Chaparral unmanned cargo aircraft.
SMFL, which gains representation on LCI's board as part of the deal, already owns a fixed-wing leasing business, Dublin-based SMBC Aviation Capital.
This has led to speculation that it might eventually seek to acquire the outstanding shares in LCI and bring the aviation leasing units closer together. However, Jandu declines to speculate on SMFL's intentions in the longer term. "We are just focusing on our business plan," he says.
"We want to drive efficiencies and combine our talents to help end-users and operators. We are in the mindset to grow; it's a synergistic deal here."
Jandu sees the new ownership structure as providing LCI with greater financial firepower allowing it to take advantage of the sector's predicted growth.
A recent forecast from Airbus Helicopters predicted the industry would take delivery of 16,200 new helicopters over the next 20 years – or more than 800 annually requiring finance of $5-10 billion. "No individual stakeholder has the ability to fund all of that," he adds.

Dominic Perry is deputy editor of Flight International but also contributes extensively to flightglobal.com. Although specialising in the coverage of the helicopter industry, he has written on most topics in aerospace – be they commercial, defence or business aviation. In addition, there has been an increasing focus on the decarbonisation of the industry and zero-emission flight initiatives.
View full Profile