An upgrade of Airbus Helicopters Tiger attack rotorcraft to the MkIII standard could go ahead even without German participation, the manufacturer has revealed.
Last year Tiger operators France and Spain gave their budgetary approval for the enhancement programme, but Berlin delayed its decision until later this year due to national elections in the country.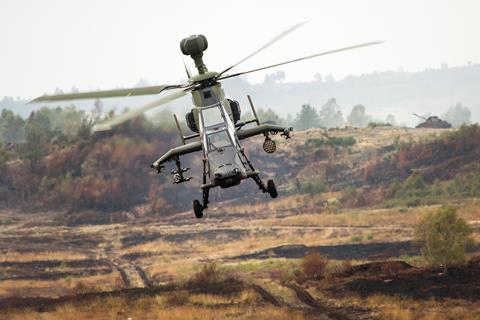 Detailing the airframer's 2021 performance on 26 January, Bruno Even, chief executive of Airbus Helicopters, said he expected the approval of the two countries to be "translated into the signature of a contract with [NATO procurement body] OCCAR" in the first quarter of this year.
Even says Airbus Helicopters is "leaving the door open" until the middle of 2022 for Germany to opt into the programme and would "support" such a move.
But if Berlin chooses not to participate then the programme will proceed regardless, he says. "As long as we sign with France and Spain we are ready to launch and execute [Tiger MkIII] based on this initial scope."
When it approved the budget for the upgrade last December, Madrid said 85 Tigers would be covered by the modernisation: 67 French army Tiger HADs and 18 Spanish army HAD/Es, from respective totals of 69 and 23.
Costs and industrial participation were to be allocated on that basis, Spain indicated, noting these would reduce if Germany came on board. Work is to be conducted at Airbus Helicopters' plant in Albacete, Spain.
Even says it would "make sense to have Germany joining the programme" as the Tiger MkIII would be the "most competitive" helicopter in its class in the "horizon of 2040".
It is the "right answer for our home nations", he says, and is "emblematic of European co-operation".
Upgrades under the MkIII programme will include new sensors, crew helmets, weapons – including air-to-air and air-to-surface missiles – communications and avionics systems.