A total of six companies have been shortlisted to bid for the UK's second-generation search and rescue contract – known as UKSAR2G – as the procurement kicks off in earnest.
Announced by the Maritime and Coastguard Agency (MCA), the invitation to tender has been issued to established SAR operators Bristow Helicopters – which provides the current service – and CHC Helicopter through its EEA Helicopters Operations unit.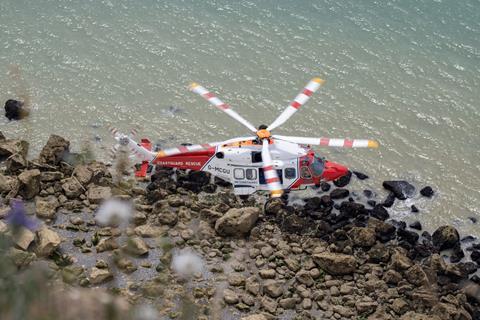 The pair have been approved to bid on lots 1 and 2 – rotary-wing SAR operations over short and long ranges, respectively – where they are joined by UK outsourcing provider Serco.
While Serco provides extensive technical support for the UK armed forces, including for its helicopter fleet, it does not operate aircraft itself.
Lot 3 – which is a requirement for manned or possibly unmanned fixed-wing aircraft for "rapid search, surveillance and pollution identification" – will be contested by CHC, Elbit Systems UK, Serco and incumbent 2Excel Aviation.
Bristow, CHC and Serco are also shortlisted for a fourth lot, which brings together the requirements for lots 1-3 into a "combined solution". Airbus Helicopters UK is also included within the final lot.
To date, the airframer is the only bidder to reveal any, albeit minimal, detail of its offer, where it is partnered with Draken International. None of other shortlisted bidders contacted by FlightGlobal wished to comment.
Responses to the MCA's requirements are due by the end of August, leading to contract award in late summer-2022. Operations will go live in a phased manner over the 2024-2026 period and are due to last for "at least" 10 years.
While the coastguard is running the procurement, Damien Oliver, senior responsible owner for UKSAR2G at the MCA, notes that "more than 50% of the demand for coastguard aviation today arises from other public bodies.
"UKSAR2G will continue to support UK policing, the health services and other law enforcement bodies in the work they do. The scale of this collaboration has never been seen before on a government procurement."
The MCA anticipates that the cost of SAR2G will be lower than the current search and rescue and aerial surveillance contracts.
"It is up to bidders to ensure they propose a price that achieves the aims of UKSAR2G, while remaining affordable to the taxpayer," the agency says.
Bristow Helicopters was awarded the current SAR contract in 2013 operating a 10-base solution using 11 Leonardo Helicopters AW189s and 11 Sikorsky S-92 helicopters under a 10-year deal worth £1.6 billion ($2 billion). It took over from Royal Air Force and Royal Navy crews, with the deal due to expire in a phased manner from 2024 to 2026.
Separately, 2Excel Aviation provides a pair of Beechcraft King Air twin-turboprops for fisheries protection and anti-pollution monitoring activities under a contract which ends in 2024.