The US Navy (USN) will purchase 26 Leonardo Helicopters TH-73A helicopters for use in flight training.
The US Department of Defense (DoD) on 23 December said the USN will exercise an option on its previous contract with AgustaWestland, which Leonardo has since acquired, to procure 26 additional aircraft. The deal is valued at $115 million, with delivery of the rotorcraft to be completed in 2024.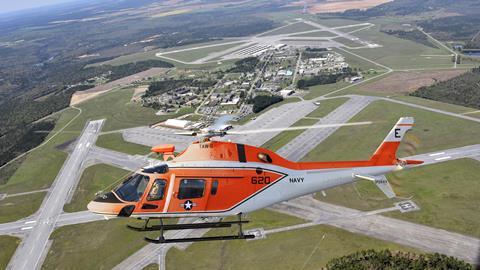 "The TH-73A will ensure the navy has capacity to train several hundred aviation students per year at Naval Air Station Whiting Field in Milton, Florida," the USN says.
The TH-73A, which flies under the name "Thrasher", is used for pilot training by the USN, US Marine Corps and US Coast Guard. It is a modified version of the Leonardo TH-119 commercial helicopter.
The US Navy took delivery of its first TH-73A Thrasher in 2021. The type will replace the Bell TH-57B/C Sea Ranger for the flight training role.
The USN has 115 TH-57s in its instruction fleet, Cirium data suggests. The service plans to acquire 130 TH-73s, with 13 already in service.