All Nippon Airways is to resume operating its Pratt & Whitney PW4000-powered Boeing 777 aircraft on domestic flights soon, an airline executive confirms, as domestic demand continues to grow.
Jun Miyagawa, ANA executive vice president for alliances and international affairs, tells FlightGlobal that the airline will gradually restart operations of the 777s as early as the summer travel period.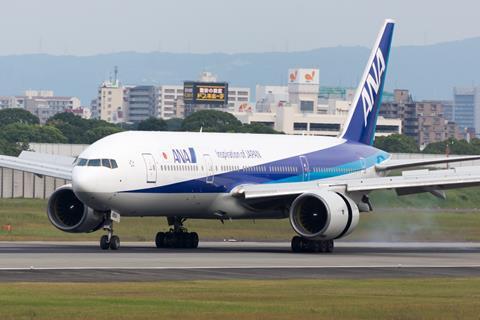 ANA was among Asian operators who grounded their PW4000-powered 777s in February 2021, following a serious engine failure on a US aircraft. The Star Alliance carrier has 14 such 777s in its fleet and flies them on domestic routes with a high-density configuration.
Compatriot Japan Airlines, also a PW4000-powered 777 operator, is retiring these widebodies, as part of fleet rationalisation measures.
The year-long grounding, which was lifted in March this year, meant ANA was not able to full recover domestic capacity, despite mounting the same number of flights as pre-pandemic levels, says Miyagawa.
Current domestic capacity is only at around 80 to 85% of pre-Covid-19 levels and the airline expects to fully recover capacity by the end of the current fiscal year, which ends on 31 March 2023.
The disclosure comes about a week after a similar announcement by South Korean operator Jin Air, which has already resumed operating its PW4000-powered 777-200ERs on domestic flights. The sister unit of Korean Air intends to operate the aircraft on international routes from July.