Korean Air is considering a move for the new widebody freighters launched by Airbus and Boeing in recent months as it continues to position itself for strong cargo demand.
The SkyTeam carrier has thrived after further stepping up its cargo business during the pandemic, temporarily converting a number of its passenger widebodies for cargo operations to support the expansion of freight operations during the crisis.
Long-term strong cargo demand also prompted Airbus to launch its A350 freighter last year and Boeing its 777X freighter in January.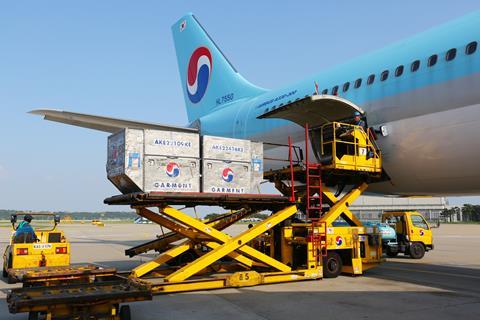 Asked whether the airline was considering adding new freighters, given the positive prognosis for cargo, during a media roundtable at the IATA AGM in Doha, Korean Air chief executive Walter Cho said: "There are two options right now, and I have been looking at both of them."
However, he says a decision is made more complicated by the fleet implications of its acquisition of Asiana, for which it is currently working on securing regulatory approval.
"We will have too many types. So we are holding it back a little bit," he says, without being drawn on whether a potential order would have to wait until after the merger is finalised.
"Either one, the Boeing or Airbus option, would be a new fleet type for us, new engine, so it's a challenge. We prefer to keep the same fleet, especially on the freighter side for commonality," he says, noting that adding more 777 freighters also remains an option.
Cirium schedules data shows Korean operates a fleet of 24 Boeing freighters: a mix of 777s, 747-400s and 747-8s.
The airline has also been operating 10 777 and six A330 passenger aircraft on cargo missions during the pandemic. The airline next month returns the last of these A330s back to passenger operations, while three 777s are scheduled to be switched back by September.
"It all depends on the market," Cho says on when the carrier expects to have moved all its temporarily converted aircraft back to passenger operations. "If the passenger market is just too strong we might have to sacrifice a little on the cargo side. But it all depends on the numbers.
"The [cargo] rates are softening, but it is still significantly higher than pre-Covid levels, and enough for us to continue flying passenger planes as freighters and also serve most of the destinations we have been flying. Demand is a little bit weaker, especially from China – which is basically shut down right now – but we expect it come back soon."