Oman Air will join the Oneworld alliance in 2024, becoming its third new member in five years.
The Muscat-based carrier will also be Oneworld's third Middle Eastern member carrier, following Qatar Airways, which joined in 2013 and is sponsoring Oman Air's entry, as well as Royal Jordanian Airlines, which entered the alliance in 2007.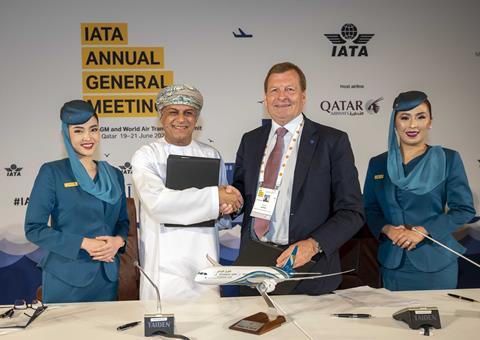 Oneworld, which announced Oman Air's entry at the IATA annual general meeting in Doha, says the airline already has codeshare agreements with four member airlines: Malaysia Airlines, Qatar Airways, Royal Jordanian and SriLankan Airlines.
"Joining Oneworld will pave the way for additional codeshare opportunities, further enhancing global connectivity across the alliance's network," it adds.
Oneworld chief executive Rob Gurney acknowledges that "there will be some degree of network overlap", with three Middle Eastern members, but quickly points out that the alliance "does not see any significant detriment" to that.
"What we see when new members come into the alliance – and we see it happen time and time again – is that [it] causes other members to rethink their network plans," Gurney, who was speaking at a briefing following the announcement, adds.
He cites the example of cities like Doha and Seattle – hubs for members Qatar Airways and Alaska Airlines respectively – seeing new services from Oneworld members.
The Oneworld alliance inducted Alaska Airlines in 2021, while Royal Air Maroc became its first African member when it joined in 2020.