Qantas and Airbus will invest up to $200 million to ramp up the establishment of a sustainable aviation fuel (SAF) industry in Australia, as part of the airline's broader environmental ambitions.
The five-year agreement, inked on the sidelines of the annual IATA annual general meeting which begins in Doha today, is believed to be the first partnership between airframer and airline on kickstarting a domestic SAF industry.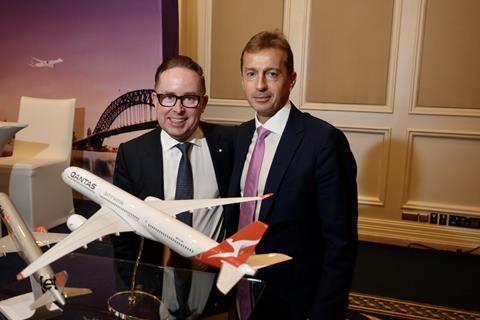 Australia does not have a local commercial-scale SAF industry, though the country exports a significant amount of feedstock annually, which goes into the creation of SAF.
Qantas, which previously committed to using 10% of SAF in its overall fuel mix by 2030, says it currently sources for SAF overseas, including from the UK and USA.
Airline chief executive Alan Joyce says: "This investment will help kickstart a local biofuels industry in Australia and hopefully encourage additional investment from governments and other business and build more momentum for the industry as a whole."
He reiterates earlier comments that Australia has to commit to building up domestic SAF supply, or "risk…being left behind".
Both Airbus and Qantas will commit equal amounts to the fund, with engine maker Pratt & Whitney pitching in. Neither Airbus nor Qantas went into further detail about funding terms.
The $200 million fund also includes an existing A$50 million ($34.6 million) that Qantas has contributed to the Australian Sustainable Aviation Fuel partnership.
The latest agreement follows Qantas' multi-billion dollar order for Airbus aircraft – including widebodies for its ultra-long-haul Project Sunrise flights – disclosed in May. The Oneworld carrier has selected P&W to power its new narrowbody fleet, which includes A220s and A321XLRs.
As part of the agreement, both Qantas and Airbus will invest in "locally-developed and produced SAF and feedstock initiative".
"Projects will have to be commercially viable and meet a strict set of criteria around environmental sustainability," the two companies add.
Airbus chief executive Guillaume Faury notes the "unique" circumstances of the partnership with Qantas, adding that Airbus "has a role to play to be the catalyst [to start] this industry".
Asked if Airbus will eplicate a similar model with other carriers, Faury notes the "unique" circumstances of the Qantas partnership.
"I think we have a role to play to be the catalyst for [the starting] of this industry," he adds.
Airbus "wants to enable [and] support…the growth of SAF supply around the world", and that could come in "other forms" of cooperation and partnerships, Faury says.