AVIC's unmanned helicopter prototype has completed its first test flight in Jiangxi province in eastern China.
The AR500C took off on its 20min test flight on 20 May, and performed a series of low-level manoeuvres, such as front-to-back, left-to-right, as well as hovering rotations.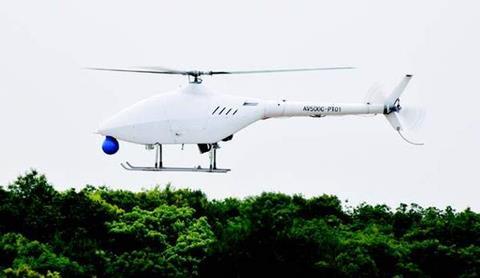 The unmanned rotorcraft can fly at altitudes of about 16,400ft, with a maximum service ceiling of nearly 22,000ft, and a maximum take-off weight of 500kg (1,100lb). AVIC adds that the AR500C can attain a maximum cruising speed of 90kt (165km/h), and has a battery life of about 5h.
The Chinese airframer adds that the unmanned helicopter has a wide range of applications and capabilities. These include electronic reconnaissance, fire-fighting, anti-terrorism, as well as disaster relief efforts.
Chinese state media suggests the AR500C could be deployed at the China-India border, amid rising tensions between both countries. They note that the border between the two countries runs at very high elevations, with several areas subject to border disputes.
AVIC completed assembly of the first AR500C prototype in March and finished ground testing in early May.