Boeing will build a new factory in St Louis to build the MQ-25A Stingray unmanned air vehicle (UAV) for the US Navy (USN).
The new factory will be located at MidAmerica St Louis Airport in Mascoutah, Illinois and be completed in 2024, says Boeing. Initially it will employ 150 mechanics and support staff to build the aircraft, which will initially serve in the air-to-air refuelling role aboard USN aircraft carriers.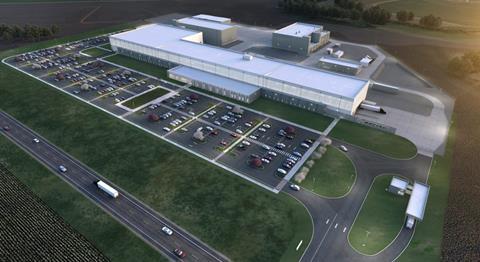 Should additional orders for the MQ-25A be secured, total employees at the factory could rise to 300. In addition, Boeing says, the factory will feature robotic production and other advanced techiques to improve quality and employee ergonomics.
"The team and state-of-the-art technology we're bringing to the navy's MQ-25 programme is unprecedented, and we're incredibly proud to be expanding both as we build the future of autonomous systems in Illinois," says Kristin Robertson, vice-president and general manager of Autonomous Systems, Boeing Defense, Space & Security.
The USN's programme of record for the MQ-25A is 76 examples.
A Boeing-owned Stingray has been undergoing flight testing from MidAmerica Airport for two years. Milestones include the air-to-air refuelling of the Boeing F/A-18 Super Hornet, Northrop Grumman E-2D Hawkeye, and Lockheed Martin F-35C Lightning.
Boeing is in the process of building the navy's first seven MQ-25As as well as ground test articles at its other locations in St Louis, which will then transfer to the MidAmerica site for flight testing.
The MQ-25A is destined to be the first large, fixed-wing UAV to be deployed from USN aircraft carriers. In addition to helping expand the mission envelope of carrier-based aircraft, it will also reduce the number of flight hours that Super Hornets dedicate to providing air-to-air refuelling missions through the fighter's buddy refuelling capability.